This post was most recently updated on October 24th, 2018
Disclosure: Some of the links below are affiliate links, meaning, at no additional cost to you, I will earn a commission if you click through and make a purchase.
When researching for the things to do in Prague, there are lots of landmarks that are regularly mentioned. One of them is the famous Charles Bridge. The historic bridge, which spans about 14 meters, crosses the Vltava river in Czech Republic's capital. This structure was designed to be Gothic style and made out of sandstone blocks. The next most visited place in Prague is the historic Old Town. Here, you can find almost everything that you need; food, drinks, fun, and souvenir items. However, this post will not focus on these, but rather on the awesome places on where to stay in Prague.
On my recent visit to Europe in 1 month, me and my friends got to experience it in the best way possible – cheap and is very close to the tourist destinations. We mostly stayed in Airbnb since we started our 1 week vacation in Budapest, Vienna, and Prague.  It's very easy to look for available properties and easy to transact with the owners. Overall the experience with Airbnb in Europe was great! You can actually save 1,600 pesos on your first stay by just joining here.
Airbnb: Filip's Property
The apartment consists of 2 bedrooms with 3 beds that are good for 5-6 persons. Imagine how the place is spacious for the 3 of us. We booked the apartment a day before our check-in, then they would send you a guest registration email. You need to fill it up as they have to comply with local laws requiring all foreign guests to provide information. On the day of your visit, someone will welcome you and give the 2 sets of keys, including the key to main front gate and to your apartment. It's also your best time to ask him regarding the things to do and visit in Prague as they have the most knowledge. He will point it out in the map provided all of his suggestions.
Apartment Amenities
Wifi
Washer (In the building, free or for a fee)
Refrigerator
Kitchen
Laptop friendly workspace
Heating
Hair dryer
Private bathroom with free shampoo, soap, and toilet paper
Towels, bed sheets
Cable TV
Iron
House Rules
No smoking
Pets are not allowed
No parties or events
Check-in is anytime after 2PM
Check out by 11AM
Check in after 21:30 = 15 EUR / 400 CZK
No noise (Quiet hours between 22:00 and 06:00)
No shoes in the apartment
Oh! Before I almost forget. Filip's apartment is 10 minutes far from Wenceslas Square and Charles Bridge by foot, 15 minutes away from Powder Tower and Astronomical clock. Prague Castle is on the other side of the river, it is a little farther, 30 minutes by foot, but it is definitely worth the visit!
I also asked my fellow travelers and bloggers with their experience to other Prague's accommodations. Hope you can find more ideas on where to stay in Prague.
Hostel: Sir Toby's Hostel
by Jennifer of The SoFull Traveler
Location:  Dělnická 1155/24, 170 00 Praha 7-Holešovice, Czechia
Website: https://www.sirtobys.com/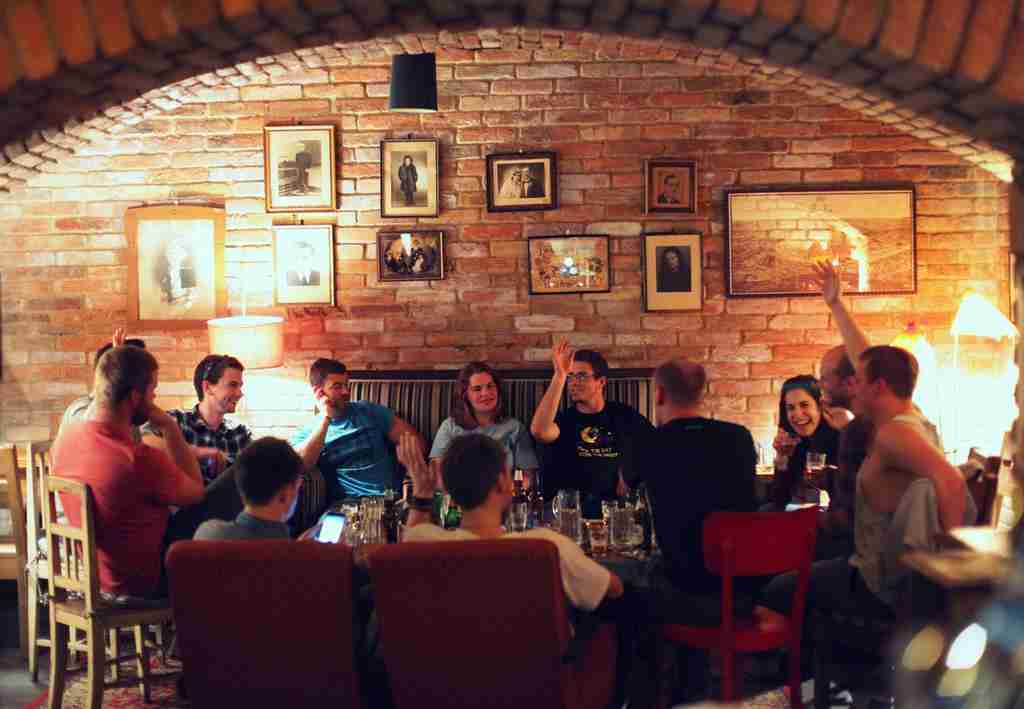 When I was traveling to Prague, I was a bit overwhelmed with the options available. With affordability but also comfort as my two biggest concerns, I was so happy to have found Sir Toby's hostel. At the whopping price of 10 Euro a night, I found what ended up being one of my all-time favorite hostels throughout my 9 months of traveling abroad. Sir Toby's offers everything you're looking for in a hostel with the added bonus of charm, character, and community.
There was one day when the only time I left the hostel was to grab a coffee at a café around the corner! Sir Toby's hostel is set in a refurbished apartment building outside of Old Town where hardwood floors, antique furniture, and bright natural light create a warm and calming ambiance.  A favorite of mine, and of many, is the brick cellar basement that provides a community kitchen, pub, and couches for lounging, drinking a few, and playing games with new friends. With exceptionally well-priced beers on tap, this was our favorite pub in Prague!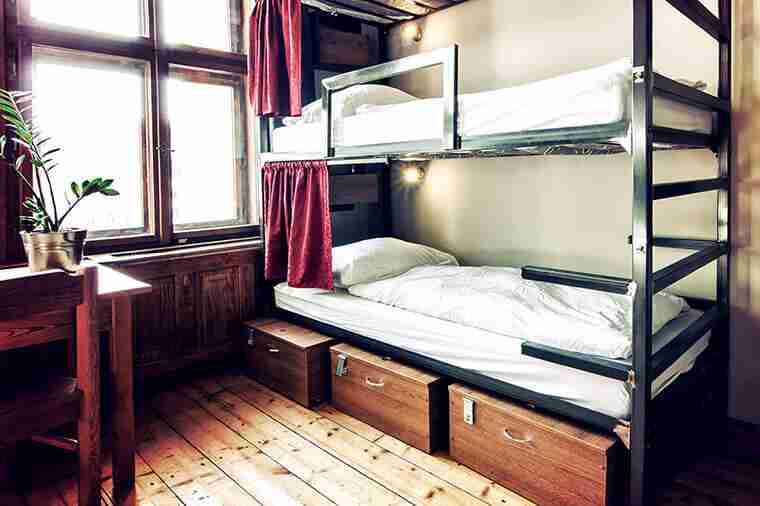 Should you choose to take your chatter outside or prefer a quiet space in the afternoon, a garden patio is available equipped with chairs, tables, yard games, and hammocks. While Sir Toby's location is a bit outside of the old-town and may be off-putting to some, a trolley is available right around the corner and takes only about 10 minutes to get into the heart of the city.
Book Sir Toby's Hostel and get 10% back.
Find more Prague hostels.
Hotel: Miss Sophie
by Claudia of My Adventures Across The World
Location: Melounova 3, 120 00 Nové Město, Czechia
Website: https://miss-sophies.com/
Miss Sophie is by far the best place where to stay in Prague, the capital of the Czech Republic. Located in the heart of the city, most attractions in town are within easy reach; and it is anyways well connected via public transportation. Miss Sophie is divided in two parts, located in two different buildings in the same street, one in front of the other. The hotel has beautiful, quaint rooms in vintage style. They are comfortable and incredibly cozy, beautifully furnished and with plenty of personal touches. The hostel on the other side of the street has private rooms as well as dorms, all of them large and comfortable. The fabulous breakfast is served in the hostel building in the bar and reception area, and along a cold buffet which has plenty of choices there's also a hot brunch for a small additional fee. The fast wifi, the kind personnel always ready to give tips on attractions and unique things to do and the beautiful common areas make it an excellent choice when visiting the city. Prices are in line with the rest of the city.
Book Miss Sophie Hotel and get 10% back.
Hotel: Casa Marcello
by Teresa of Brogan Abroad
Location: Řásnovka 783/1, 110 00 Staré Město, Czechia
Website: http://www.casa-marcello.cz/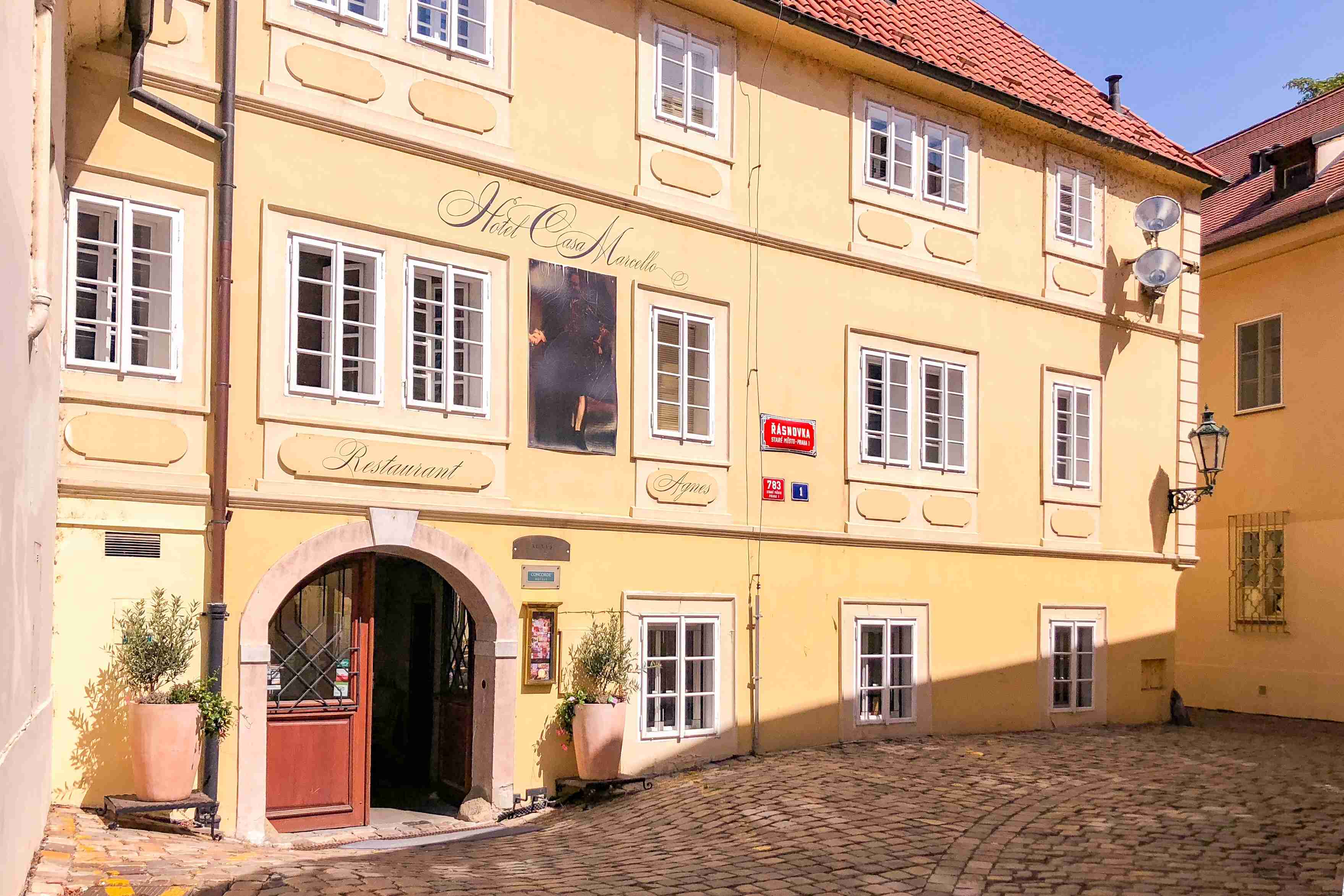 The Hotel Casa Marcello is located in the heart of the historical centre of Prague, on a narrow street just a few metres from the Old Town Square. The hotel is spread over two buildings, both built in the gothic style in the 13th century, and they both still retain their original historical character. If you like historic hotels, Casa Marcello is definitely for you.
Despite being so close to the Old Town Square, as it's tucked into a quiet narrow street, it is very peaceful and you do not feel at all like you are in the thick of the hustle and bustle. Also, being such an old building, the walls are solidly built, which means that no noise goes through.
The rooms are very comfortable with all modern fittings, and you can clearly feel the historic atmosphere within the building. There are three different types of rooms – Deluxe Rooms, where I stayed, Junior Suites and Apartments.
The breakfast spread was excellent – from cooked savoury food, to pastries, plenty of fresh fruit, cereals and yoghurt. You can sit in the open outdoor patio to enjoy it. It's a bit of a suntrap, so it's lovely to enjoy your first meal of the day surrounded by beautiful plants and soaking up the sun.
Book Hotel Casa Marcello and get 10% back.
Apartment: The Charles Bridge Apartments
by Sarah of A Social Nomad
Location: Cihelná 3/103, 110 00 Malá Strana, Czechia
Website: https://www.charles-bridge-apartments.com/en-us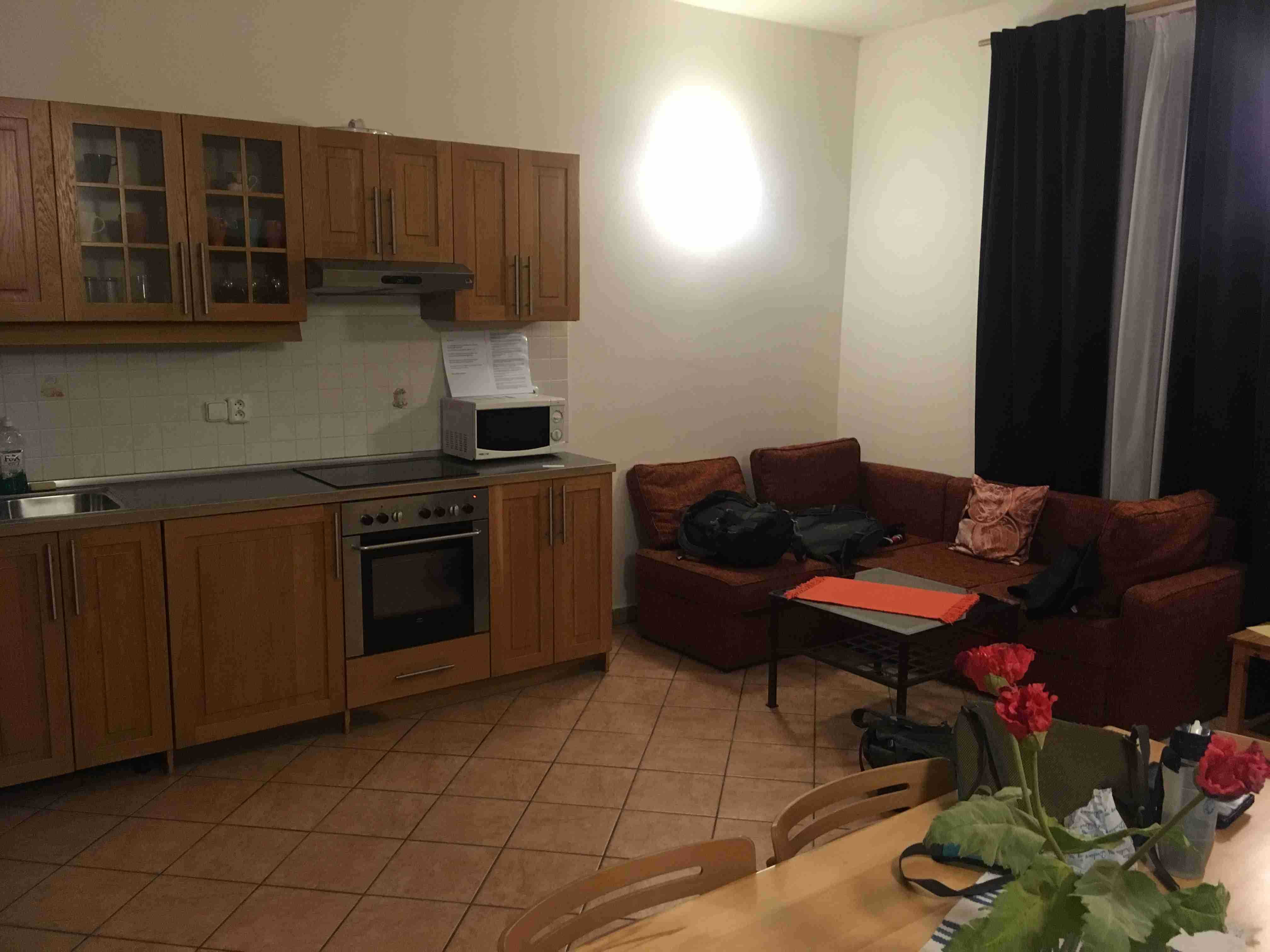 Our two bedroom apartment in the Charles Bridge Apartments was a home from home. Set in the lesser town we had free WIFI a full kitchen, full bathroom and a washing machine. The lounge was amazingly comfortable, with two four-seater sofas to stretch out on. A large dining table made communal dining easy.
We were located 2 minutes from Charles Bridge and within easy reach of restaurants, bars and shops. Charles Bridge Apartments are found at Cihelna 3/103, Prague, 110 00, Czech Republic.
This is a great place where to stay in Prague, you're so very close to everything that you will want to see and the comforts of home are all at hand. With a full kitchen you can cook or at least breakfast and drink good coffee without stirring too far and if it is chilly outside it's a great place to dip back to during the day to warm up.
All the rooms here are huge, so there's lots of space to spread out and the washer/dryer means that if the weather catches you out you can easily dry clothes before you head out again. For me, it's the perfect place to make your base while seeing Prague!
Book Charles Bridge Apartment and get 10% back.
How do you like the list of places where to stay in Prague? Pin it and comment down below.