Budapest City calls itself as the "city of spas" and for a good reason. You'll find lots of traditional baths with steam rooms, saunas, ice-cold pools, and massage rooms. This bathing tradition was influenced by the Romans and later on shaped during Turkish era dating back at 16th century. I must admit that during my 1 month Europe trip, I just booked a flight to Budapest only because it was cheaper to do so than flying straight to Prague from Stockholm. But what I've realized is that this city has a personality and identity that is among the strongest I've seen. I asked my fellow bloggers to help me come up with a list of what to see in Budapest in 3 days.
What To See In Budapest In 3 Days: Day 1 History and Culture
On your first day, it's good to visit things what made Budapest as Budapest now. A meaningful tour in historical and cultural places to understand their beliefs, morals, cultures, and more.
State Opera House
By Vanessa of Turnip Seed Travel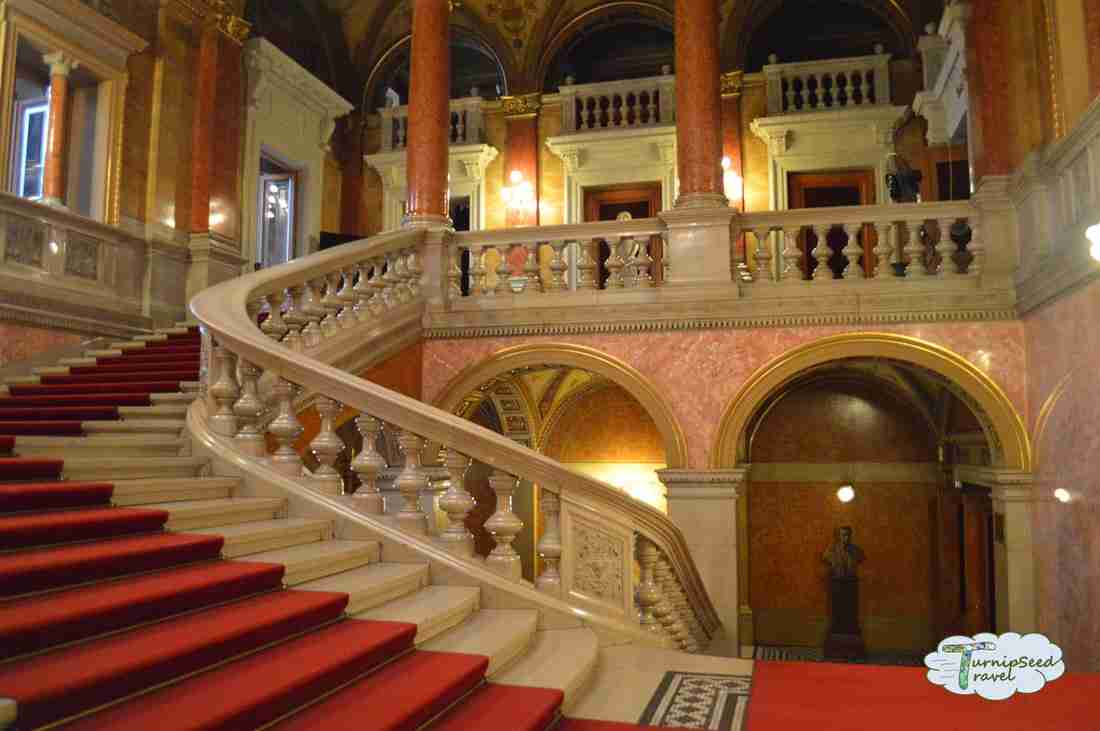 Visiting an opera house is an oh-so European thing to do. And arguably no city is as mad about music as Budapest. But if you can't manage to get tickets for a performance, there's a smart, savvy alternative. Visit the Hungarian State Opera House on a tour!
You'll learn about the stunning architecture and art behind this beautiful building, as well as the Opera House's role in the community. Did you know that the Hungarian State Opera House is renowned for its children's program and that it is one of the only opera houses in the world that has seen its funding increased (because it's just that darn invaluable to the community)? While it's filled with priceless art and spectacular architectural details, there's nothing stuffy about it. It's all about bringing music and the community together.
This establishment also offers guided tours in English daily at 3 pm and 4 pm. Tickets are available in the Opera Shop and tours take about 45 minutes. Prices are HUF 2,900 for adults and HUF 1,900 for students.
Vajdahunyad Castle
By My Path In The World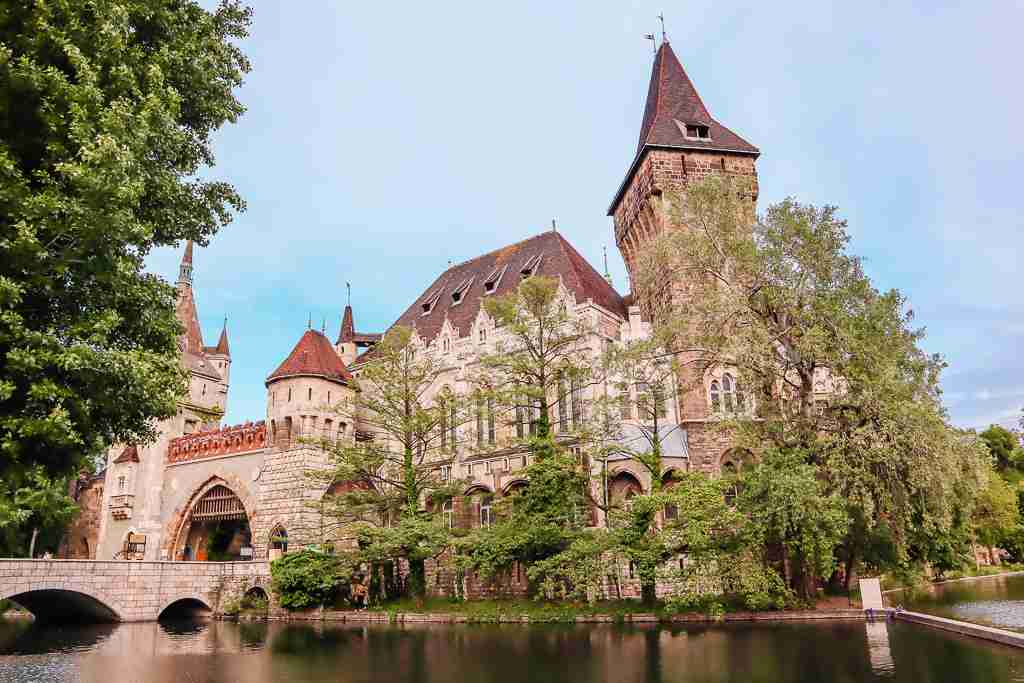 Located in the beautiful City Park right behind the iconic Heroes Square, the Vajdahunyad Castle is an astonishing gem in Budapest you don't want to miss. Normally, you don't get to see such a gorgeous castle without taking a day trip from the city or going on a road trip, so this one has to be on your Budapest itinerary.
Dating back to the late 19th century, the Vajdahunyad Castle was built as a celebration of 1,000 years of Hungarian architecture. Exploring the complex, you'll see different architectural styles like Gothic and Baroque, and if you're a Hungarian architecture expert, you might be able to see different buildings in the country's history merged into one masterpiece. Today, the Vajdahunyad Castle houses the Museum of Hungarian Agriculture, which costs 1600 HUF (about 5 Euros) to visit. If you only want to stroll around the castle's courtyards, you'll be happy to know it is 100% free.
The Great Synagogue
By Wendy of The Nomadic Vegan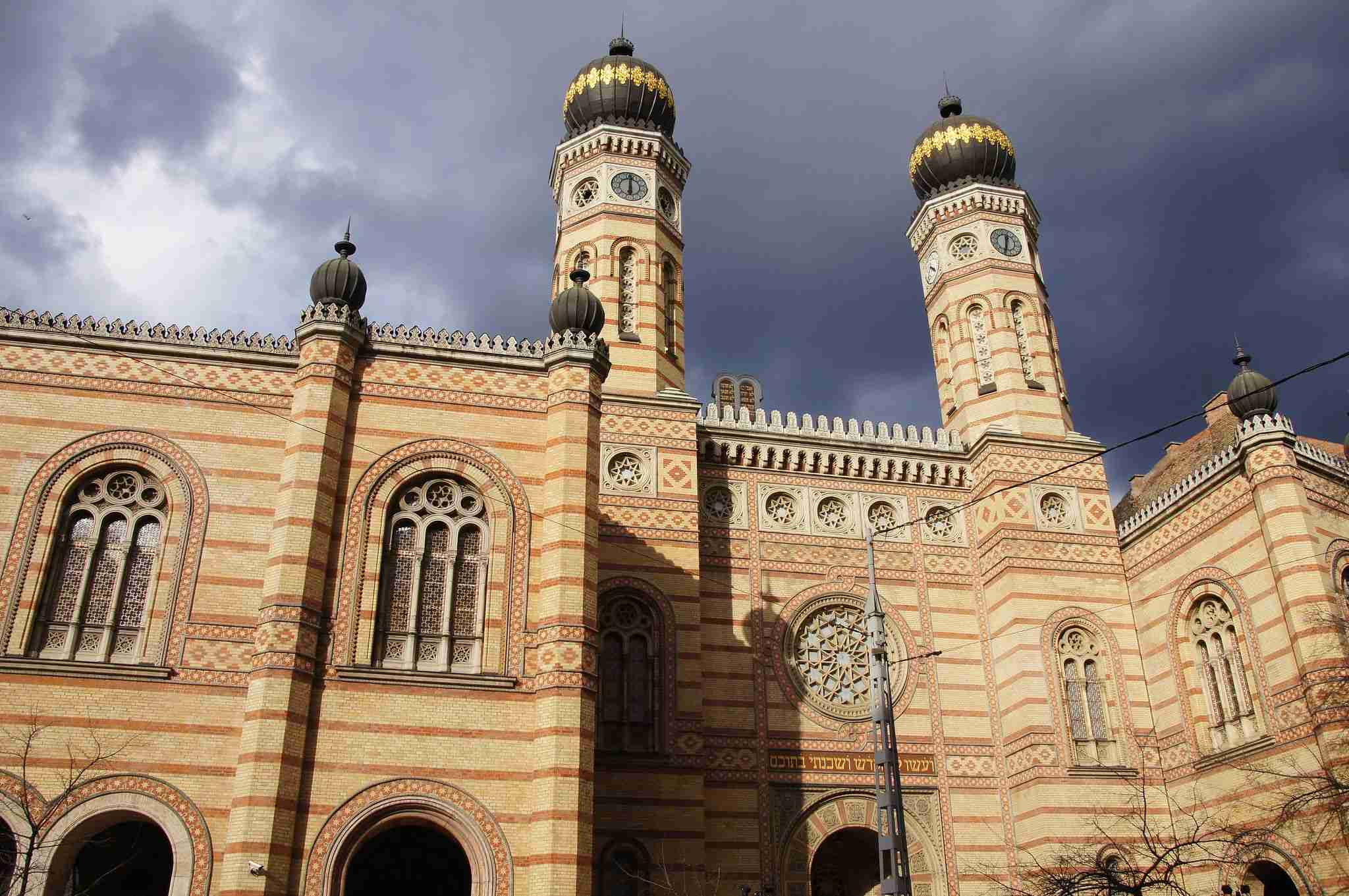 The Great Synagogue is the largest synagogue in Europe and the second largest in the world. It can hold up to 3,000 people. It's also sometimes called the Dohány Street Synagogue after the street where it is located, which served as the border of the Budapest Ghetto.
A visit to the synagogue is a must when you're in Budapest, not only because of the building's beautiful Moorish architecture but also because of the important role it played for Hungarian Jews during World War II, many of whom are buried in makeshift mass graves behind the synagogue.
There are a number of sights to visit within the complex, including the graveyard, the Heroes' Temple, the Jewish Museum and Archives, the Raoul Wallenberg Memorial Garden and the Emmanuel Tree of Life. On each leaf of this metal weeping willow tree is carved the name of a Jew who died in the Holocaust.
The entrance fee is 4,000 HUF and includes a guided tour of the synagogue, offered in English and several other European languages. If you're here at lunchtime, a short walk away is Las Vegan's, a popular place that serves up some of the best vegan street food in Budapest.
Szechenyi Chain Bridge 
By Inma of A World To Travel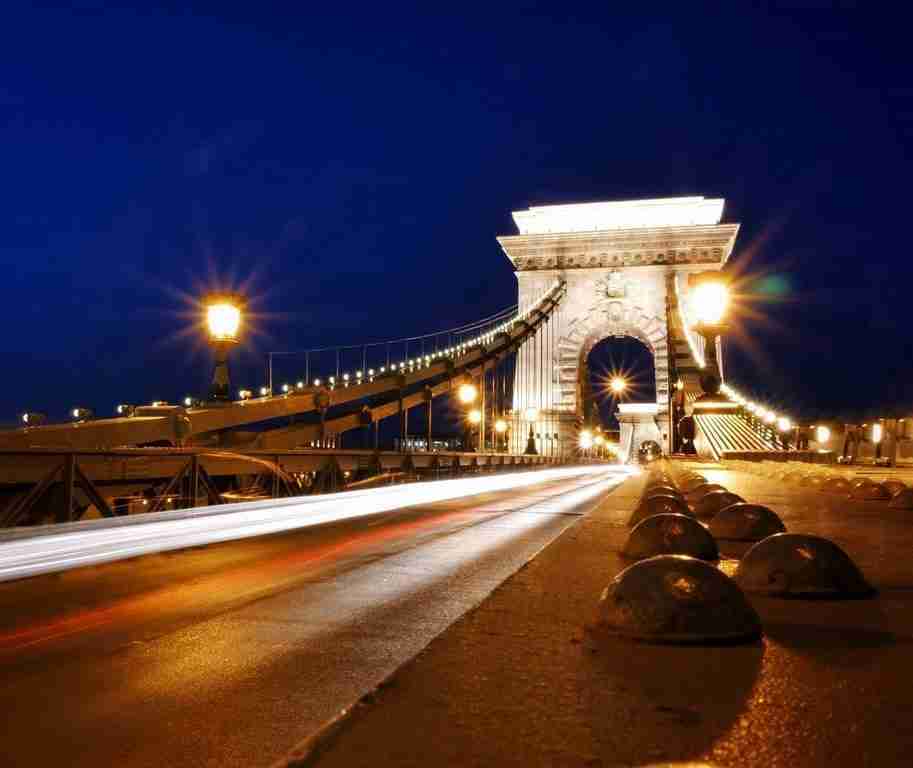 One of the most famous suspension bridges in the world, Budapest's is also the oldest among the two main parts of the city: Buda and Pest. Before Instagram made it hyper-famous, this bridge was already topping all the lists of what to see in Hungarian capital. And it's easy to see why. Impressive – 202 meters long – this structure rises on the Danube on 1849, after 10 years of construction.
But its wonderful story did not end there. At the end of World War II, it was dynamited, and it would not be until 1949 when it would reopen to the rejoicing of the inhabitants of Budapest. They could not wait any longer to recover the greatest symbol of their city.
The image shows that during the night it is very well lit and it is perfect to admire the city from the river. A must in one of the world's most romantic cities!
What To See In Budapest In 3 Days: Day 2 Explore More
On your second day of what to see in Budapest in 3 days, you need to enjoy the sceneries. It's also a perfect time to be an adventurous by going to hidden spots. I highly recommend joining the boat and/or walking tours. These tours usually go along the Danube River, where you can see a lot of tourist attractions.
Danube River
By Derek of Robe Trotting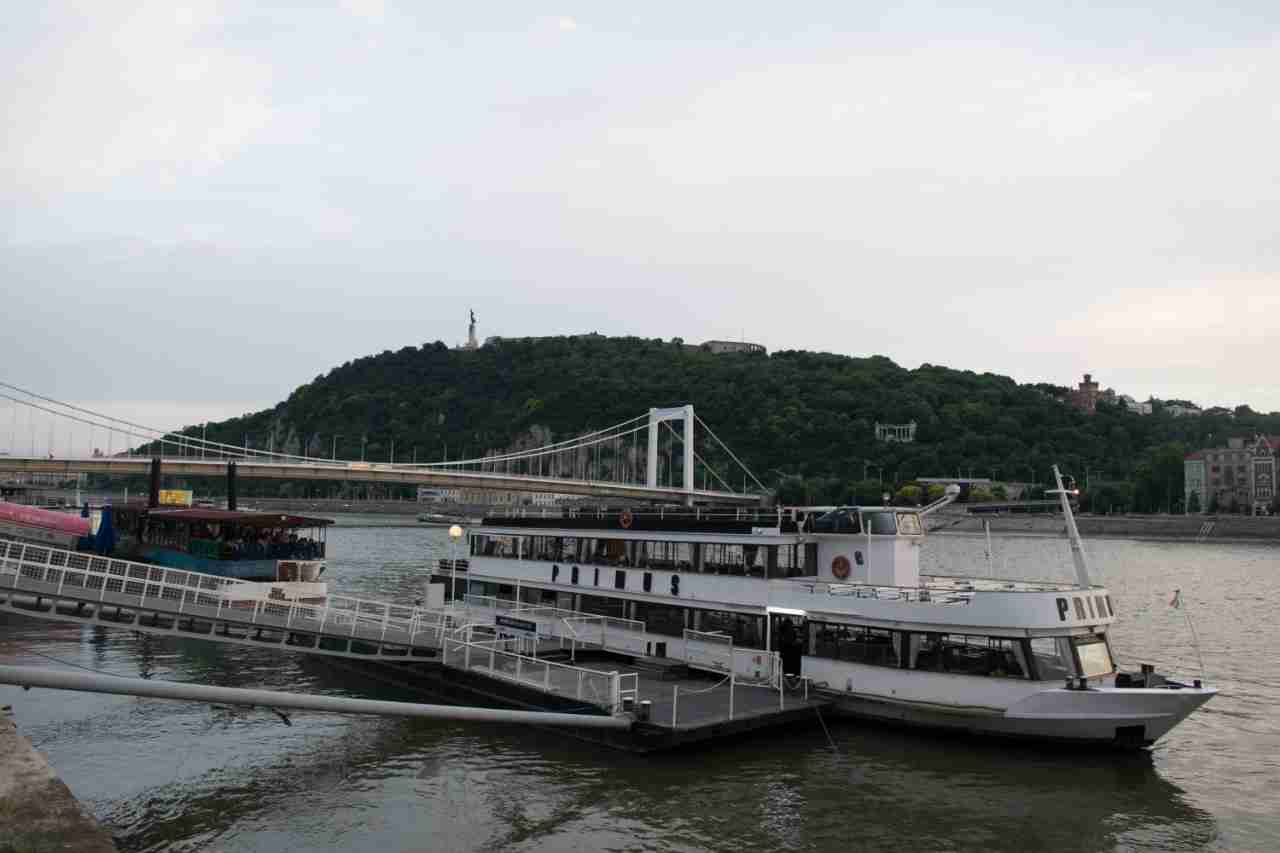 No visit to Budapest is complete without a walk along the Danube River. It's the defining feature of the city and even separates Budapest into two. The Danube is also the location of three other European capitals; Bratislava, Vienna, and Belgrade. That's not the most impressive thing about the waterway, the views and bridges are spectacular.
In Budapest, you can walk the Danube and grab a drink at any number of river-front bars. The best ones are on the Pest side of the Danube. One of the best is Raqpart Bar, overlooking the Chain Bridge. After a drink, head over the Chain Bridge for fantastic views of Buda and Pest, both halves of the city. Buda Castle dominates the views on the west side of the city, which shares its name. Turn around and you'll be in awe as you gaze the Parliament building. Watch the fast-moving current below your as you navigate the Chain Bridge. On the Pest side of the Danube, you can find Shoes on the Danube. This monument is dedicated to Jewish citizens murdered on the same east bank of the Danube during World War II. It's located along the banks of the river between The Chain Bridge and Parliament Building.
From cocktails and gorgeous views to somber monuments, walking the Danube River offers plenty. It's also a must-do highlight of seeing Budapest. There is so much to do in this gorgeous city and a simple stroll along the river can open your eyes to so much.
House of Terror
By Kenny of Knycx Journeying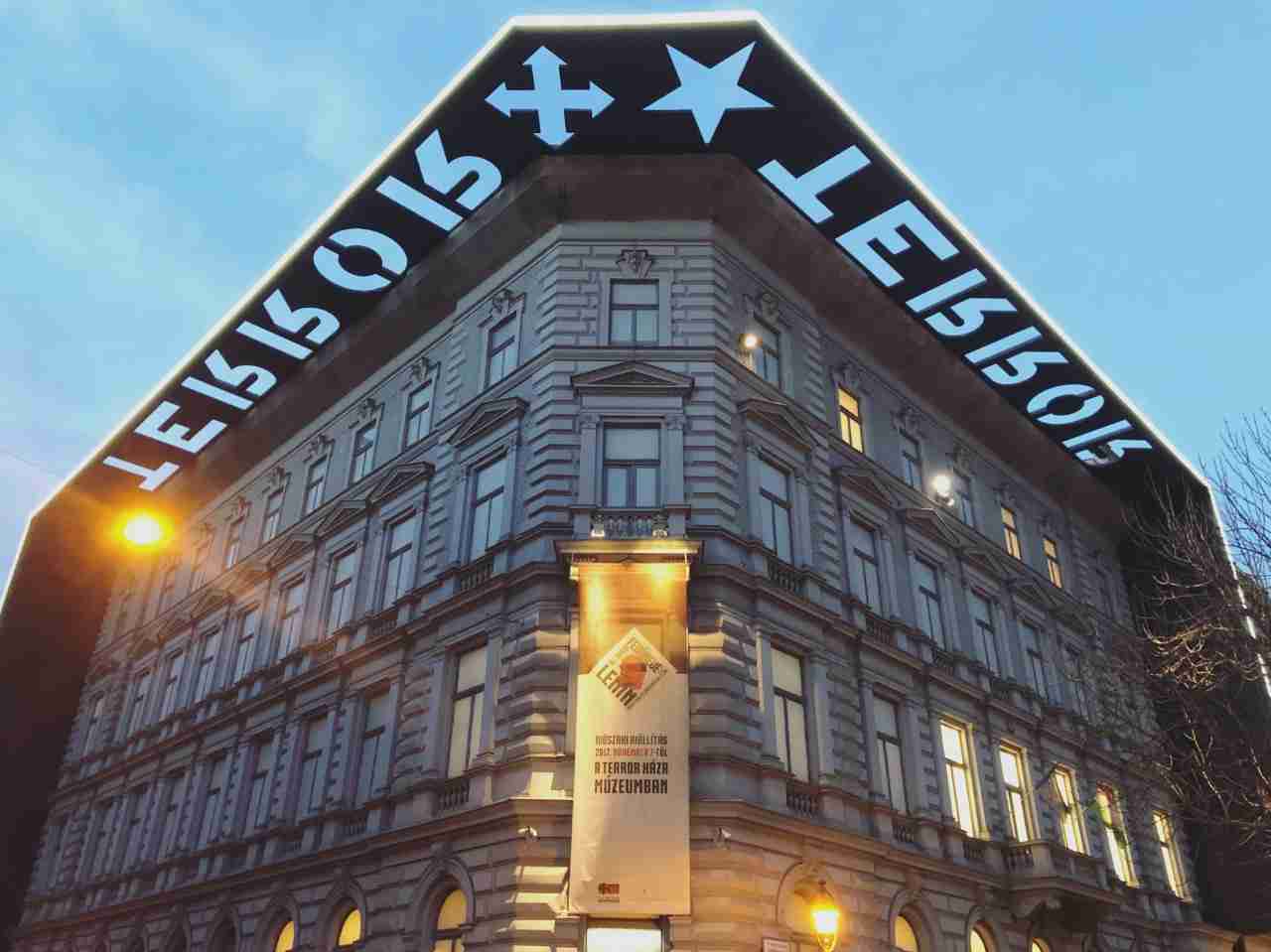 The House of Terror is a special attraction in Budapest that showcased the history of Hungary under the dictatorship ruling of Hungarian Arrow Cross Party.
Today, the "House of Terror" is a museum and memorial to political victims. It was the site of the two shameful and tragic periods in Hungary's 20th century history. In 1944, during the domination of the party, the house is known as the "House of Loyalty", which is served as a headquarter of the Hungarian Nazis. Between 1945 and 1956, the house was taken up as a residence of the two notorious communist terror organizations, the AVO and AVH.
The museum showcases images, interview videos, newsreel footages and visual exhibits to tell the audience about the lives during socialism terror after WWII. The rooms are vividly designed with a powerful visual impact. Being in the house I felt gruesome as I imagine how people's lives and freedom are disrupted. The people's food supply was controlled and they were forced to show loyalty to the leader. It was horrible to see how there were treated and luckily the situation was finally changed.
Kerepesi Cemetery
By Chris of Trip & Trail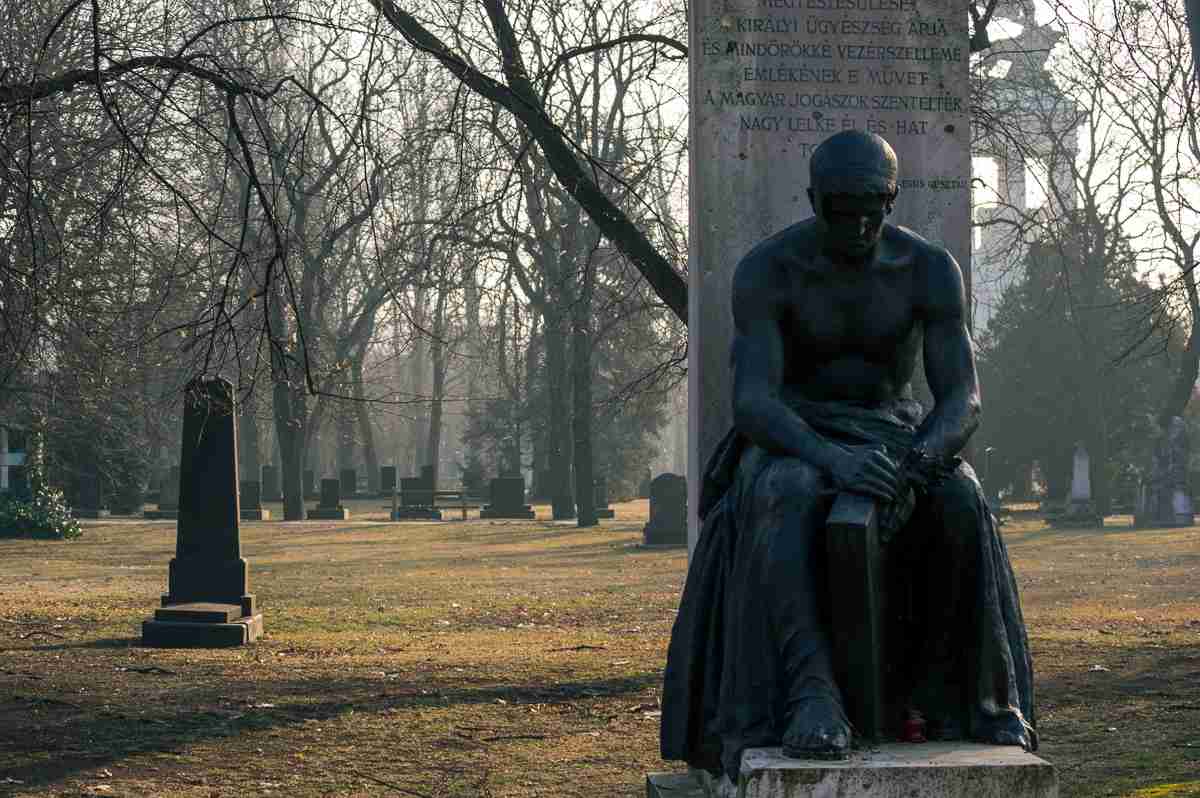 This 19th century park-cemetery may not be among the famous spots to visit in Budapest. However, in my book it should definitely be included in what to see in Budapest in 3 days. Located at a walking distance from Keleti station, this vast cemetery stands out for its eloquent art which decorates a great number of tombs. Exquisite lifelike statues and mausoleums of great architectural beauty make Kerepesi a real outdoor art museum, different than anything else most people have seen.
The atmosphere of this burial ground is amplified by the silent worn forms that look like they are guarding the deceased. Sometimes they appear dark and mourning, and others, calm and serene. Strolling and watching them can make hours pass like minutes. It can take more than three hours to walk around and every time I visit, I discover something new.
There is no admission and it is open for the public every day. Just a word of caution, this is not an Instagram spot, this is a burial ground and as such it must be respected. Photography is allowed but I would definitely refrain from jumping selfies.
As an added bonus, you can visit the small Jewish cemetery on Salgotarjani street which has a separate entrance next to the train tracks. The gate is always closed but you can ring the bell and the guard will open.
What To See In Budapest In 3 Days: Day 3 Leisure and Relaxation
To cap off your trip in Budapest, of course, you need some relaxation after the exhausting 2 days of going around Budapest City. Going to thermal baths and trying out some good food should not be missed!
Margaret Island
By Claudia of Travel Drafts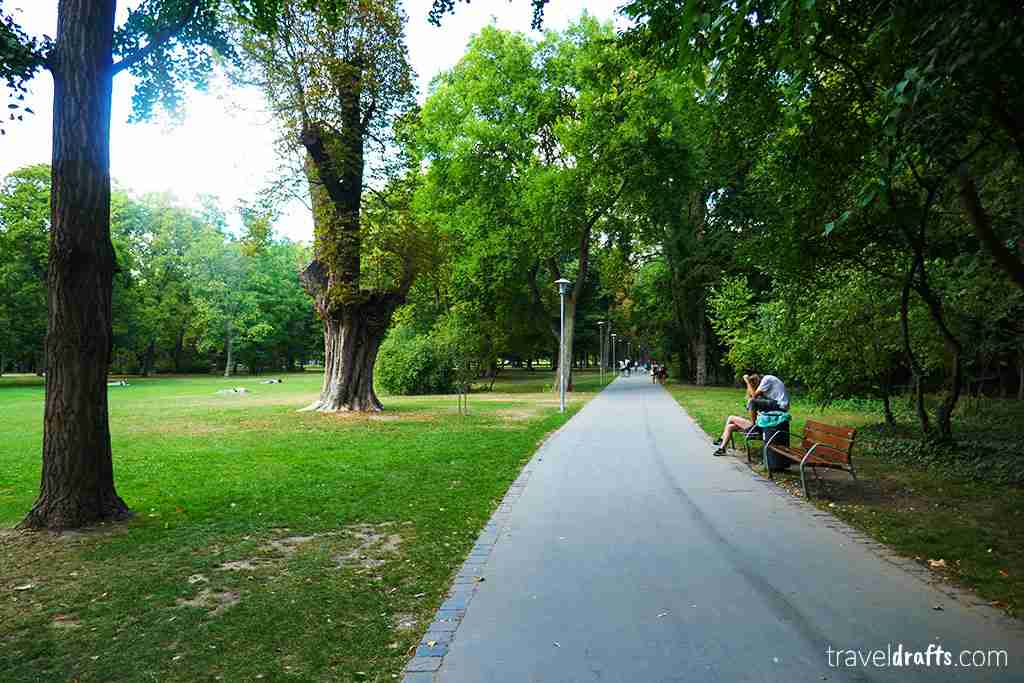 One of the what to do in Budapest in 3 days is to cruise the Danube in one of the public ferries. Make sure to stop at Margaret Island. Margaret Island is covered with parks and trees with plenty of space to walk or jog, do several sports, and it even has a water park. You can also rent a bike and tour around this natural island. Moreover, the park is very family-friendly with several playgrounds for kids. The island is also a good place to grab a bite, with several food stalls, coffee houses and bars.
Around the island, you will also find remains of different churches from the 13th century – in the past, the island was occupied with monks and nuns. One of the most famous attractions in the island is the music fountain which has music and watershow with lights in Summer. Besides the ferry, it is possible to access the island by car or bus there are two bridges interconnecting Margaret island with the city of Budapest.
Szechenyi Baths
By Gemma of Highlands 2 Hammocks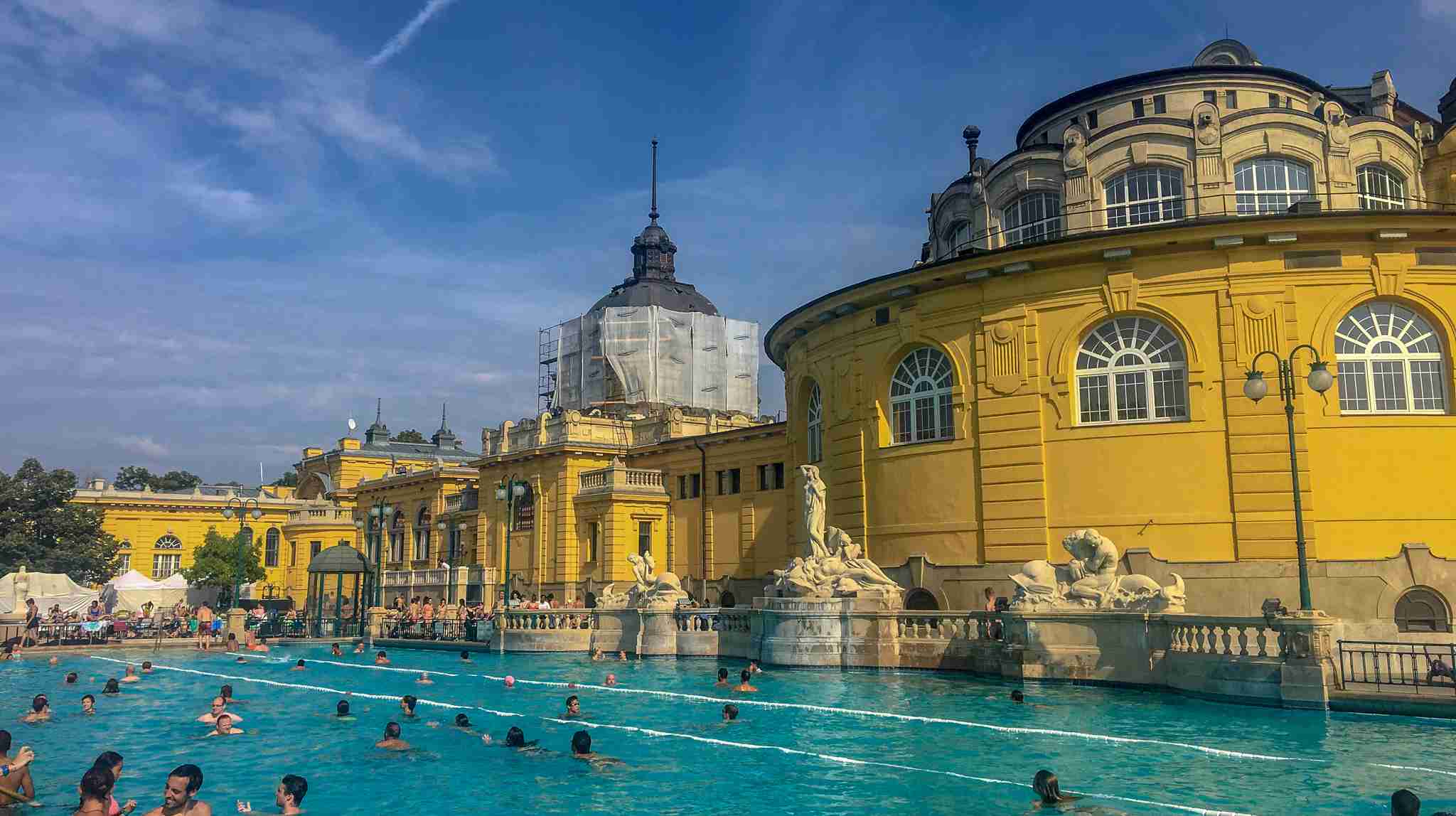 Budapest is a city full of culture, history and is also known as the city of baths. Built in 1913, the Szechenyi Baths is one of the most popular tourist attractions in Budapest. When you purchase your ticket to the Szechenyi Baths, you will be given a wrist band which acts as a ticket and a locker key. Your ticket will give you full day access to the baths, perfect for any day, rain or shine.
As one of the largest and best spas in Europe, there are 18 pools to choose from and 10 sauna and steam rooms. For an extra charge, you can book a massage therapy or facial treatment. There are plenty of changing facilities and cubicles to store your belongings on the premises.
Feeling peckish? There are food and drink stalls on site too. We would recommend bringing your own water and some food as it would be an expensive day out otherwise. Get yourself to the city of baths and immerse yourself into the culture of the locals. You won't regret spending one of your days in Budapest at the Szechenyi Baths.
New York Café
By Karolina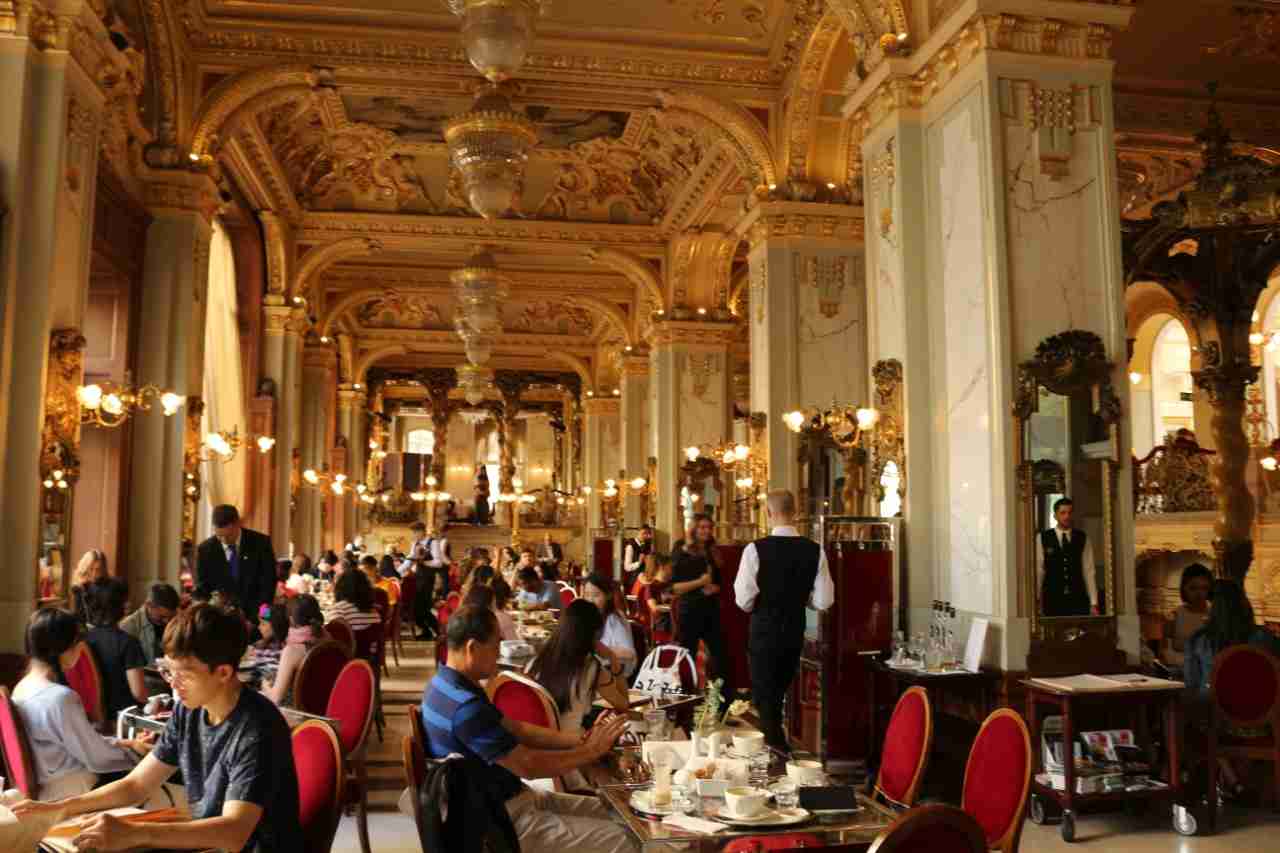 The New York Café is not only one of the most romantic places in Budapest but also a spot worth visiting even if you are traveling solo. With an elegant and majestic interior that is reminiscent of bygone days when the beloved coffee shop was once frequented by famous writers and editors, the New York Café recreates Budapest's past with its traditional Austro-Hungarian dishes that are fit for royalty. Take a seat and savour the experience by gazing at the intricately carved golden gilds, the spiraled marble columns and ornamental brass statues as you feast on beef ghoulash or a slice of Eszterhazy cake.
Once a rendezvous point of writers, both the famous and the unknown, writing materials and a writers' credit were once made available in this establishment. Within the comforts of the New York Café, writers would order coffee, ink, pen, and a dog tongue, a rolled sheet of paper, on which they wrote their masterpieces. You can say that it was once the go-to co-working space of this era.
Ruin Bars
By Amber of Food and Drink Destinations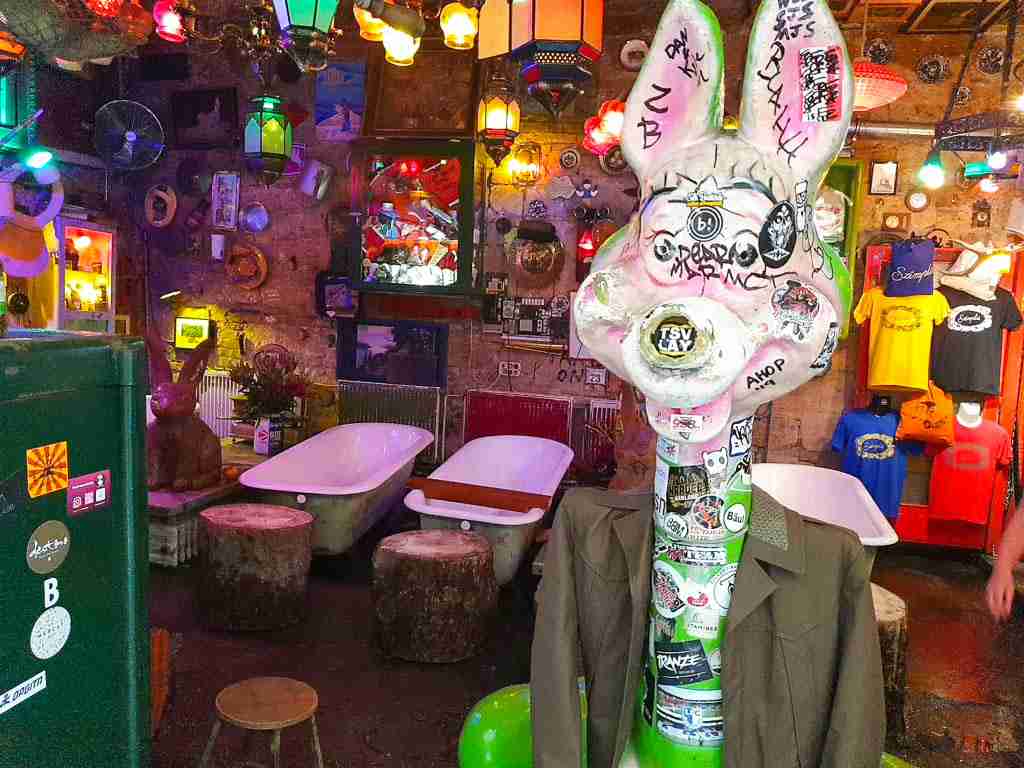 Spain has its tapas bars, Ireland and England its pubs. In Budapest, ruin bars are the place to stop in for a cold cheap beer. A trend that started nearly 20 years ago, ruin bars were started by young residents of Budapest looking for cheap places to drink. Using vacant building and lots scattered around Budapest, these drink entrepreneurs established the now popular ruin bars.
Many of the best Budapest ruin bars are located around the Jewish Quarter, in District VII on the Pest side of the Danube River. There is a focus on drinking, but many also serve food. Some act as de facto art spaces. They are decorated with Christmas lights and funky decor, including brightly painted chairs and tables, much of which seem like they came straight from a salvage yard. A few even have seating in bathtubs or old Soviet-era cars. Several of the most popular Budapest ruin bars can cater to a younger audience, particularly late at night. They might be attached to or associated with a youth hostel or be ground zero for stag parties and large groups of drunken British. Thankfully many are open during the daytime to be enjoyed in relative calm like a chill Budapest beer garden.
Enjoyed this post about what to see in Budapest in 3 days? Pin now, read it again later!