This post was most recently updated on April 28th, 2019
If you're dreaming of your next South-East Asian destination, Thailand is always on the list. The "10 Places in Southeast Asia You Need to Visit Before You Die" list comes from Reader's Digest Canada with entries with the likes of Bagan Temples in Myanmar, Angkor Wat in Siem Reap, Cambodia, and the Rice Terraces in the Philippines. The country is not that big, however, due to its numerous tourist destinations scattered inside its borders, and the fact that it is voted as one of the 10 most visited countries in the world by World Atlas, it is a little harder to choose from these. With the help of my fellow travel bloggers, we listed down all of our ideas of the things not to miss in Thailand.
12 THINGS NOT TO MISS IN THAILAND
1. Erawan Waterfalls
Mike of 197travelstamps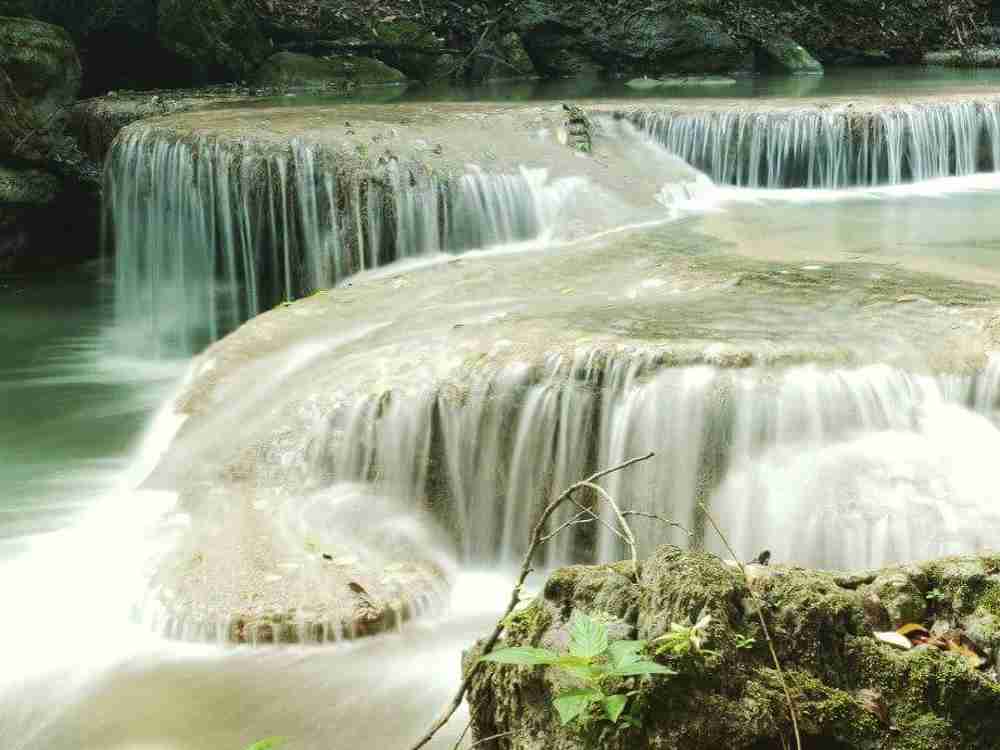 In addition to to pristine beaches in the south and breathtaking Buddhist temples in the north, Thailand offers a wide range of natural attractions. The Erawan waterfalls are one natural attraction you should not miss during your time in the Southeast Asian kingdom. The falls consist of seven tiers and getting to the lower tiers requires a short walk through the jungle of the Erawan National Park. If possible, visit the falls in the morning in order to beat the day tripping crowds that are coming in later in the day from Bangkok. The falls themselves are not very high but with the green of the thick jungle reflecting in the water they look just spectacular. At the fourth tier, there is a stone from which you can slide into the water. An ideal location to take some amazing travel shots. The hike gets steeper if you continue onwards to the fifth, sixth and seventh tier of the falls – if you can't make it there in the morning, this is another great way to beat the crowds who usually don't go beyond tier four.
2. Phra Sumen Fort
Natasha of Meldrums on the Move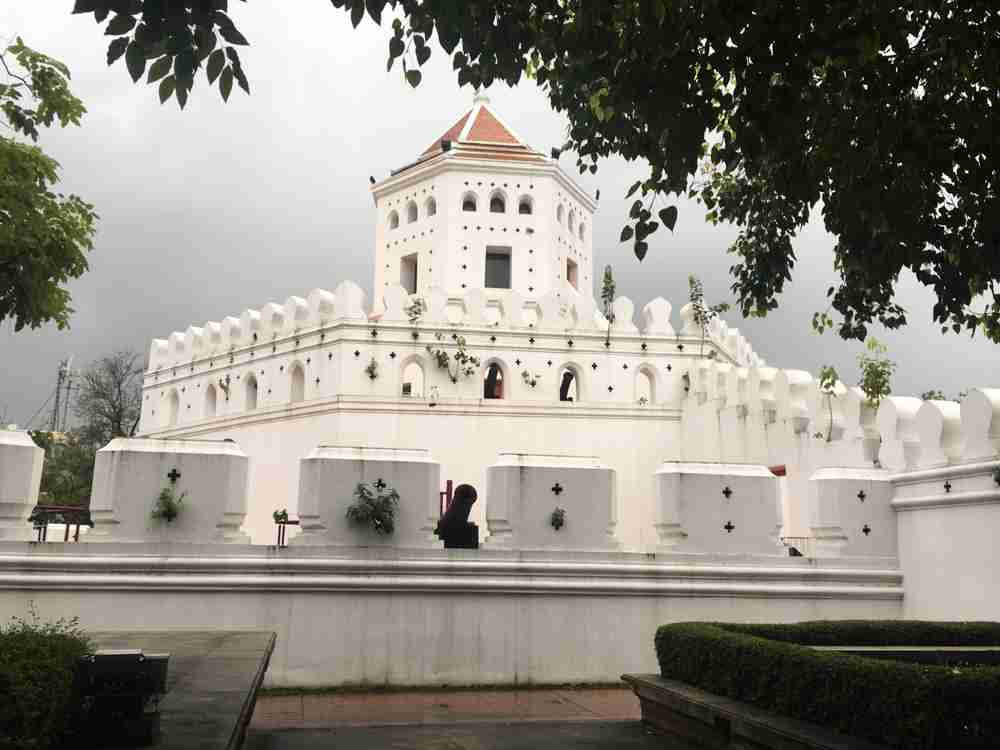 Everyone seems to stop at Khao San Road when they come to, or leave from Bangkok. Most people waste their time at Khao San Road drinking buckets, eating insects, lounging by rooftop pools or nursing a hangover. That is all fair and well but there is so much more to this area of Bangkok. One of our favourite things to do is visit Phra Sumen Fort, both day and night, to explore the cool Fort in the middle of the city. During the day you can enjoy the views of the fort while lounging in Santi Chai Prakan Park where you can also play a game of ball with the locals, hop on a boat on the Chao Phraya river or just enjoy the sun in a pretty green space in the city. At night Phra Sumen Fort is all lit up making it look spectacular. Try something different on your next trip to Thailand and check out this Fort in the middle of the madness.
3. Ancient City in Bangkok
Gina of Jet Set and Forget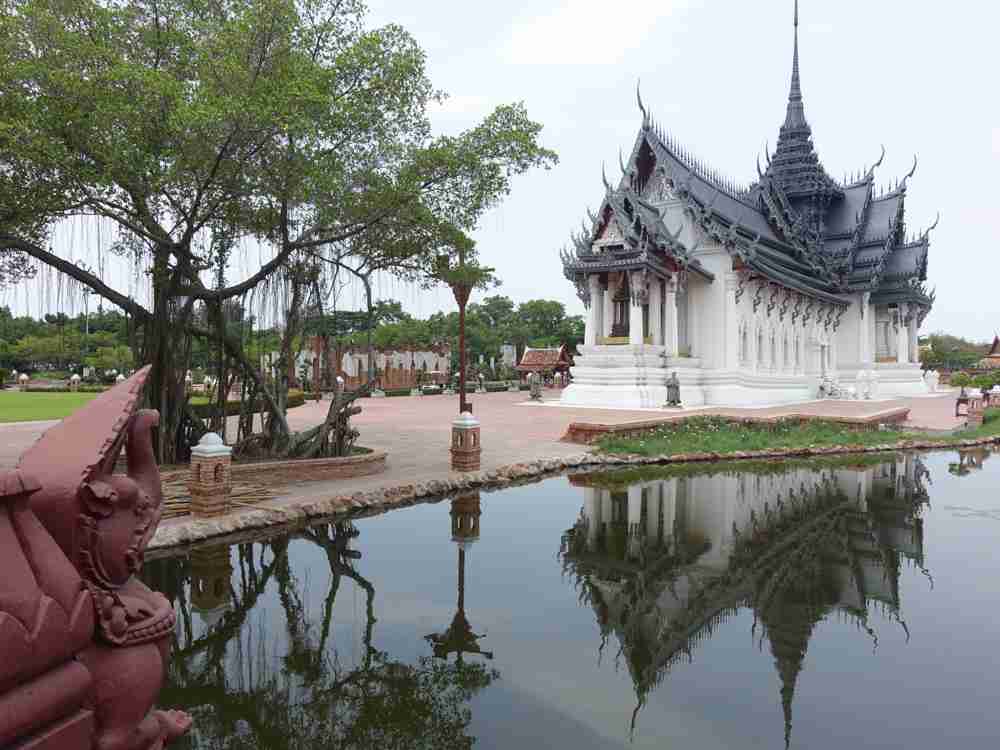 Located 35km east of the city center, the Ancient City or Ancient Siam is a hidden gem that's also included in the things not to miss in Thailand. This park is the world's largest outdoor museum and is the brainchild of eccentric Thai billionaire, Lek Viriyaphant.
He originally wanted to create a park with miniatures of every Thai temple or historical building in one place so that the Thai people and visitors would have a place to go to learn about Thai history. But in the end, he decided to create 3:1 and 1:1 size replicas of these buildings, so if you cannot make it to all areas of Thailand, visiting this park gives you a chance to immerse yourself in Thai culture.
You will see things such as the Grand Palace, the recreated Ayutthaya, as well as a floating market and an old city market. In total there are 116 replicas. You have the option to purchase tickets in advance or at the gate. Take either the BTS to the Bearing station and then hail a taxi to the Ancient City. Or you can take a cab the entire way from Bangkok's city center.
Admission ranges from 600-700 Baht, you get a free bicycle to ride around the grounds, or you can rent a golf cart for the day. You will also receive a free headset in multiple languages, so you can learn all about the Thailand's history. It truly is breathtaking and well worth the journey.
4. Phuket Old Town
Natalie of Love and Road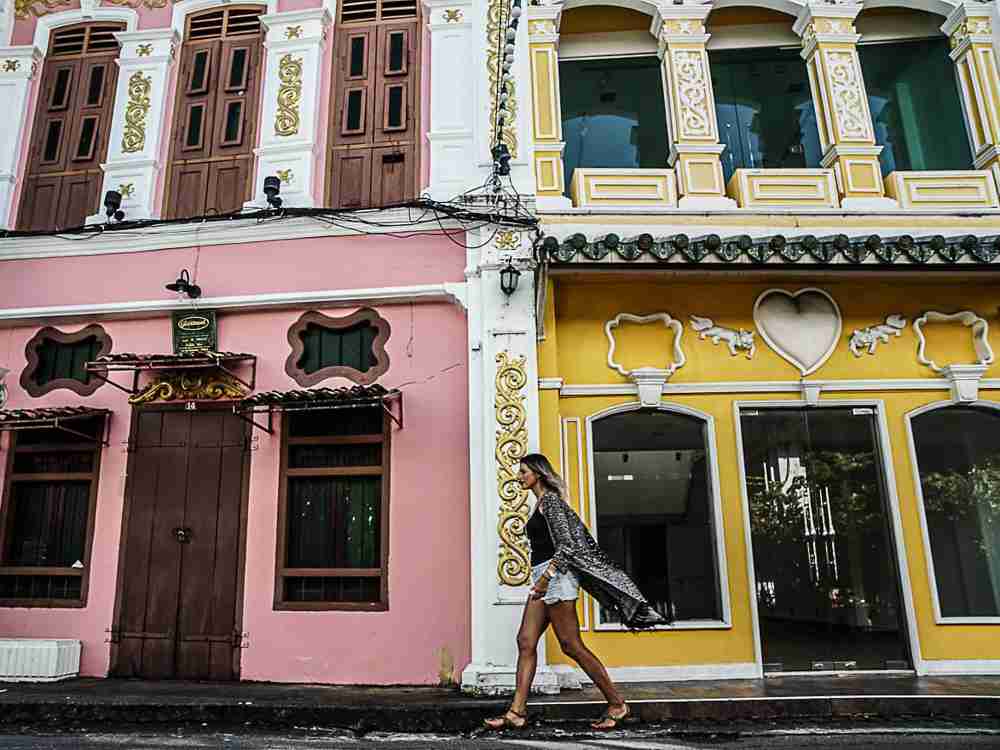 Phuket is one of the most famous islands in Thailand, known for its good parties, 5-star resorts and the beautiful coastline. The list of what to do in Phuket is huge but what many travelers don't know is that Phuket is packed with history, interesting architecture, street markets and cute cafes. Take one day off from the beach and go explore Phuket town. The best way to explore the old town is by foot, so wear comfy shoes, sunglasses and a hat as the heat can be a challenge. Pay attention to the details, the colored tiles in front of the houses mixed with old Chinese symbols. Phuket has a typical Sino-Portuguese architecture and you can admire it while walking through the Thalang Road and Soi Rommani. Stop at one of the charming cafes for an iced latte or a coconut ice cream. The best time to visit Phuket town is Sunday afternoon. You can wander around the town, visit some beautiful Buddhist temples and enjoy the street market that happens at Thalang Road every Sunday evening. This is the perfect spot to try local cuisine, street food and buy some souvenirs.
On the west side of Phuket, you can also find the province of Krabi. There are lots of stunning places including the Emerald pool Krabi.
5. Koh Lipe – Maldives of Thailand
Katherine of Tara Lets Anywhere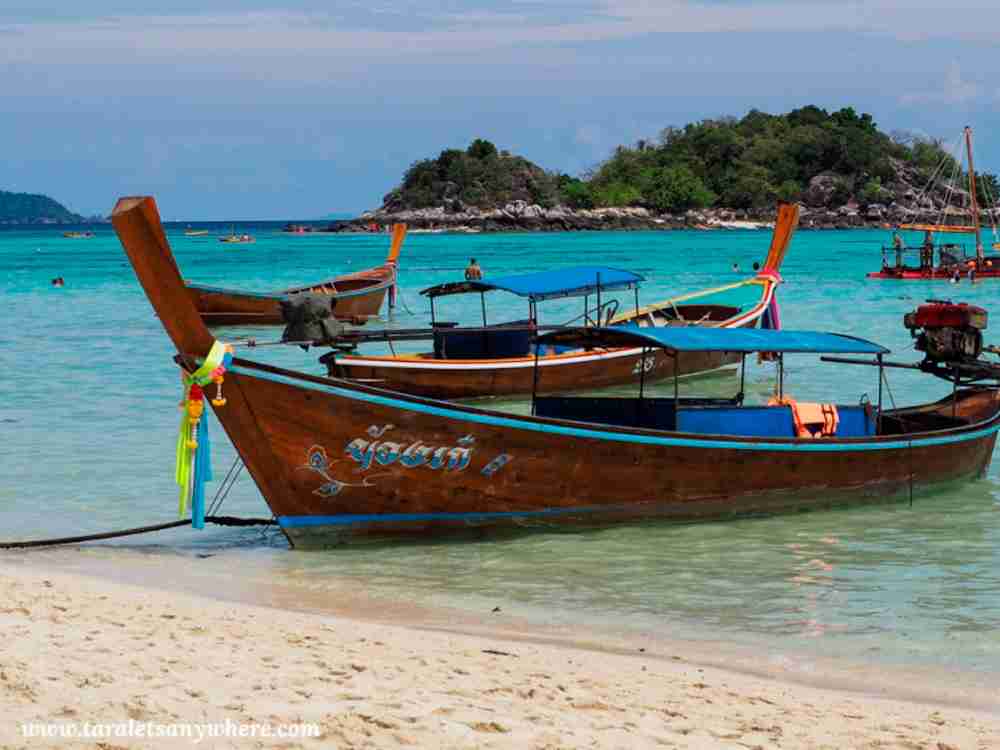 The beaches of Thailand are famous the world over, but at the same time it's now difficult to plan a vacation to one that is not a crowded tourist attraction, particularly during summer.
Koh Lipe
is one of the remaining pristine islands in the country. Due to its beauty and clear blue beaches, it's also tagged as The Maldives of Thailand.
Koh Lipe is basically a small island in the south, near the border of Malaysia. It has 3 islands which you can explore end to end – Sunrise Beach, Sunset Beach and Pattaya Beach. There are several resorts and accommodations in the island, as well as a long street called Walking Street where you can find restaurants selling authentic Thai dishes, bars and souvenir shops.
The most recommended thing to do in Koh Lipe is to beach bum, enjoy the sun and the sea. You can also island hop to nearby islands or opt to kayak instead. There are also a few diving centers that can help you with underwater excursions and certification.
Koh Lipe is a wonderful island perfect for those looking for those who want to enjoy the raw beauty of tropical beaches in Thailand.
6. Amphawa Floating Market
Campbell & Alya of Stingy Nomads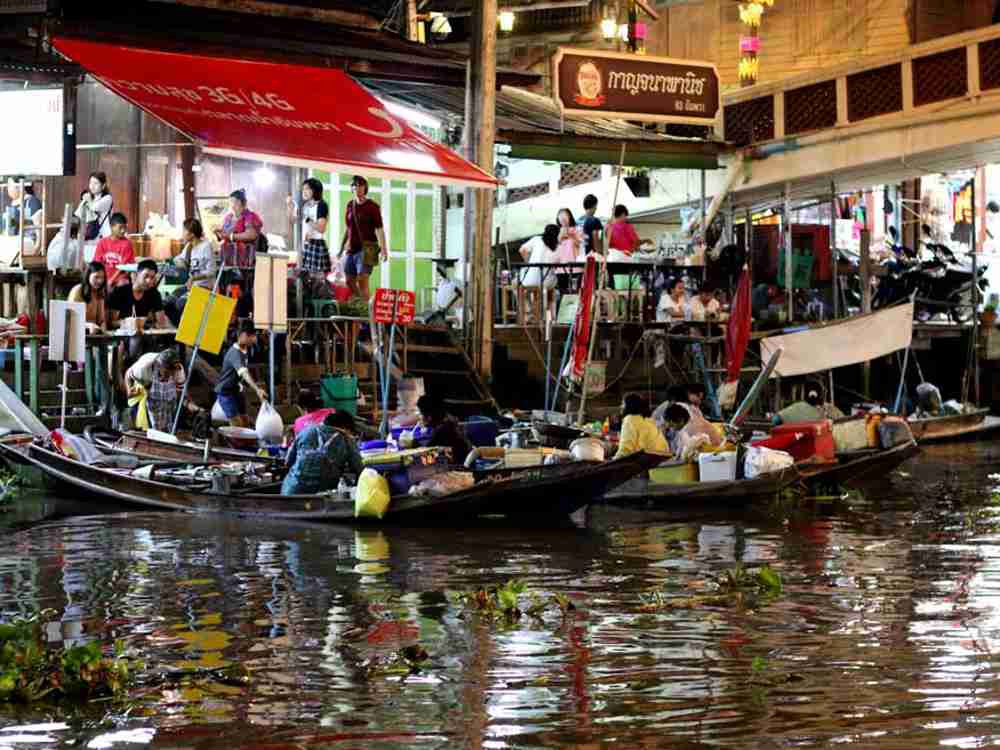 Asian markets are always an interesting experience we love wandering around trying local food and watching people. One of our favorites was Amphawa Floating Market, near Bangkok, it's one of the things not to miss in Thailand. Amphawa is a weekend food market, it starts on Friday night and finishes on Sunday afternoon. Many locals from Bangkok come here for weekend getaway to rest from the bustling city and to enjoy local food. Here you can try all sort of delicacies from seafood to pastries; king size prawns, crabs, squids, fish, fruit shakes, soups, sweets and snacks – the diversity of a Thai food market. The most interesting for us was watching Thai people cooking and serving meals sitting on wooden boats surrounded by many colorful lights. You can buy cooked food from a boat and sit at one of the tables along the Maeklong river embankment. Another activity not to miss here is a fireflies watching boat tour that takes you down the river where in the bush you can see hundreds of fireflies, a very romantic excursion. On Saturday morning don't miss the traditional donation ceremony, when locals come to Maeklong river with their donations (food baskets) for Buddhist monks that collect gifts rowing small wooden boats.
7. Phanom Rung Temple
Allan of Live Less Ordinary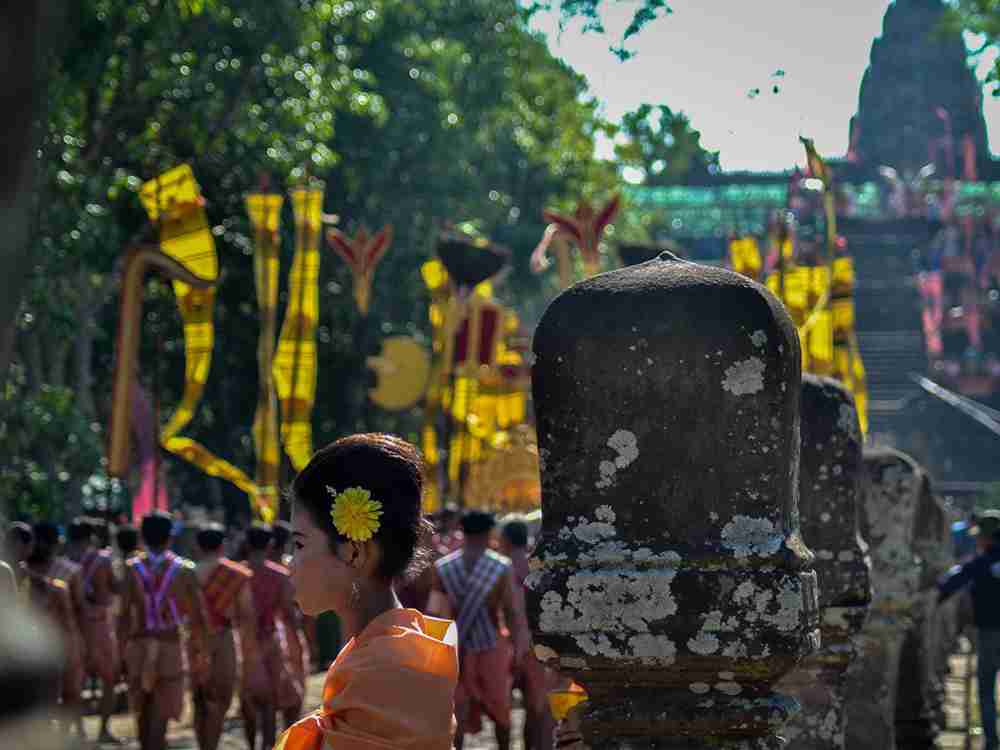 Throughout Thailand you will find occasional Khmer influences from the ancient Khmer kingdom best known next door in Cambodia, and many of these will be found along the Ancient Khmer Highway, which is a 225-kilometre roadway built by the ancient Angkor Empire. And are mostly found along the Thai-Cambodia border. The highway leads from the more famous temples of Angkor (Angkor Wat) in Cambodia, passing through Surin, Buriram Province only to end just 60 kilometres from Korat city at the Phimai Historical Park. Of these structures, the Phanom Rung Historical Park (along with the nearby Muang Tham) would easily be the more intriguing of these ancient sites, found on a now extinct volcano where it overlooks the Cambodian borders. And while these sites were originally Hindu, rather than the prominent local Buddhist culture, they are still revered, especially the God Shiva. Arriving to Phanom Rung there is an ancient walkway lined with stone pillars which leads through a stairway of 'Naga' and serpent heads, as it continues to the top sanctuary of the ruins. Each year the temple also celebrates a bi-annual occurrence, when the morning sunrise aligns with the fifteen doorways of the temple's upper sanctuary. To mark the occasion there is a parade of traditional dress and culture, as well as a dazzling display of sound, light, action, and costume design, to re-enact the old historical tales of Gods, and Kings along with epic battles that once presided over these ancient Khmer ruins. It is no doubt one of the more far-flung attractions of Thailand, but it is no doubt one not to be missed.
8. Explore the Area Around Pai
Patrick of German Backpacker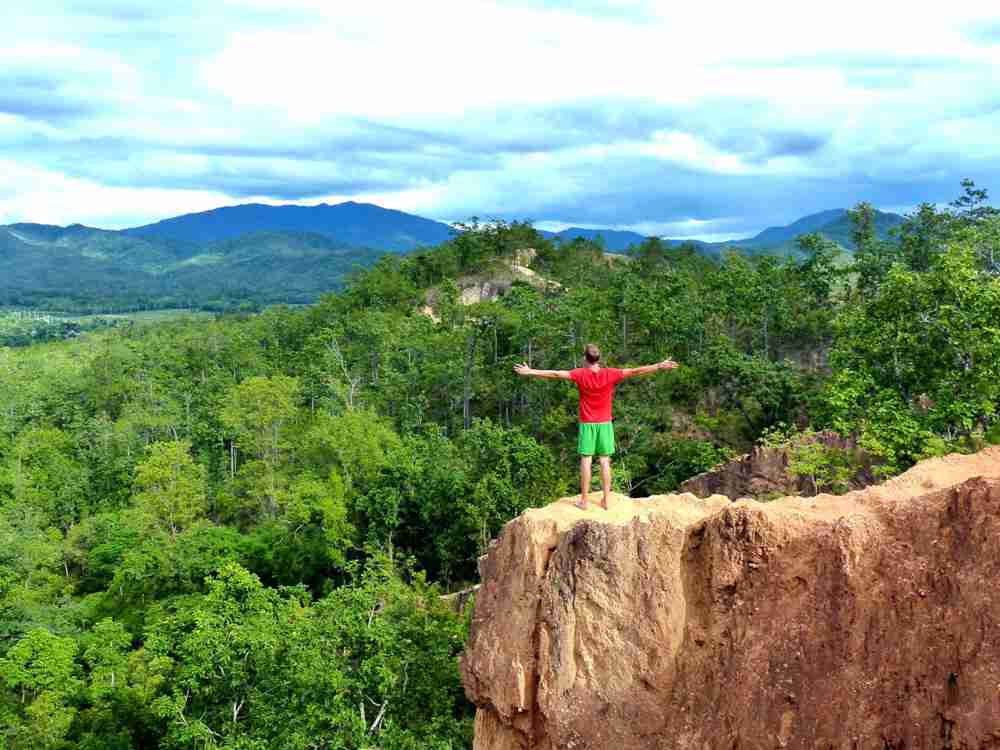 The small town of Pai in northern Thailand became a backpacker mekka in the last years and it's certainly worth a visit. Pai is located in the hills, a few hours away from Chiang Mai (Read: Chiang Mai honeymoon suggestions) and a fun place full of expats and backpackers. The atmosphere is very social atmosphere, there are plenty of nice cafés and restaurants and some beautiful nature around. When visiting Pai, rent a scooter and explore the area. There are several waterfalls (for example Mo Paeng Falls and Pombok) where you can go for a swim and you should also visit the White Buddha (Wat Phra That Mae Yen), which is located on top of a hill outside of Pai. Another beautiful place to visit is the Pai Canyon, which offers great views on the surroundings. Pai is one of these places where people get easily stuck, since it's so chilled and beautiful, and I hope to be back soon!
9. Song Kran Festival in Bangkok and Chiang Mai
Sarah of Trip Gourmets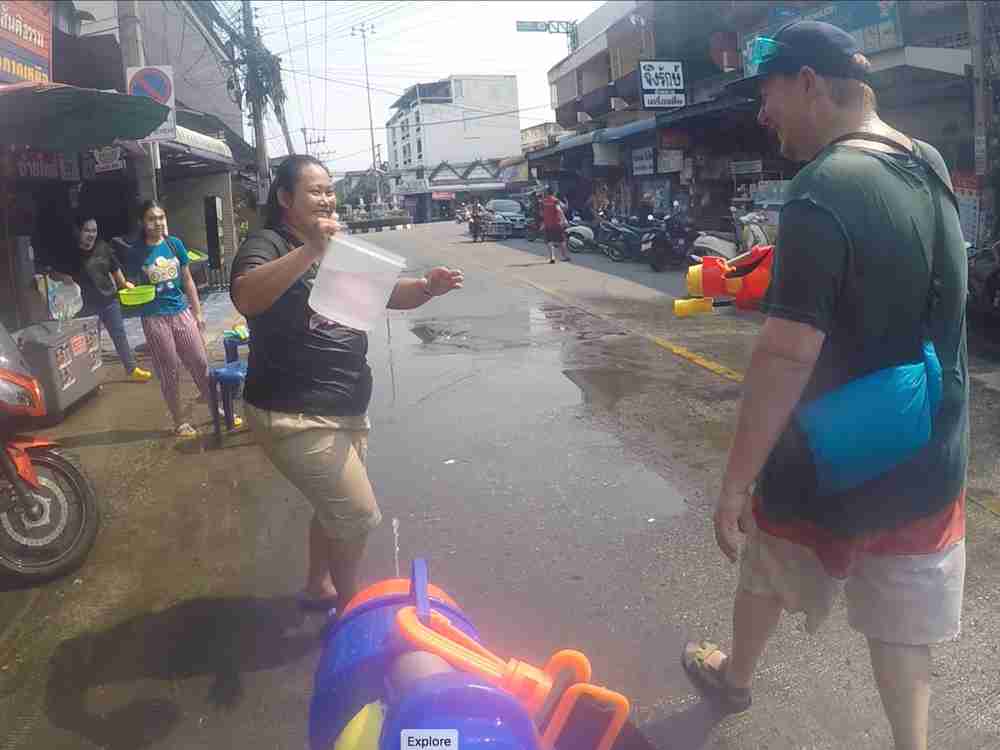 Song Kran, or the Thai New Year, is basically the worlds biggest water fight. Every year in mid-April, the country shuts down for 3-5 days in order that everyone can celebrate. Thai buddhists start the morning by merit making – performing cleansing rituals by pouring water on the Buddha statues.
By the afternoon, everyone is engaged in the fun and festivities, pouring water on anyone and everyone who comes close. Buckets, water pistols and hose pipes have everyone soaked to the skin.
We've had the privilege of experiencing Song Kran twice – in Bangkok a few years back, and Chiang Mai this year. Whilst both cities offer up plenty of water-fighting fun for the duration of Song Kran, Chiang Mai is definitely the bigger party. The entire old city as well as the outlying neighborhoods become playgrounds for locals, tourists and expats alike. If you fancy swimming in the yucky brown moat surrounding the old city, then now is your chance to do it! Although you only have to walk by to get soaked in buckets of water that the locals are pulling out by the dozen. Pickup trucks crawl through the packed streets, carrying groups of locals and barrels of water to hurl at each other, as well as anyone walking past.
Whilst Bangkok is not exactly sedate in its Song Kran celebrations, the action is more spread out. Backpacker central Khao San Road is a massive water party. Siam Square also hosts crowds of revelers as does Sukhumvit Road.
If you fancy staying out of the action in either city, you can always escape to one of the shopping malls where things are a lot calmer. But then, why would you want to?
10. Northern Thailand Tribes
Noel of Travel Photo Discovery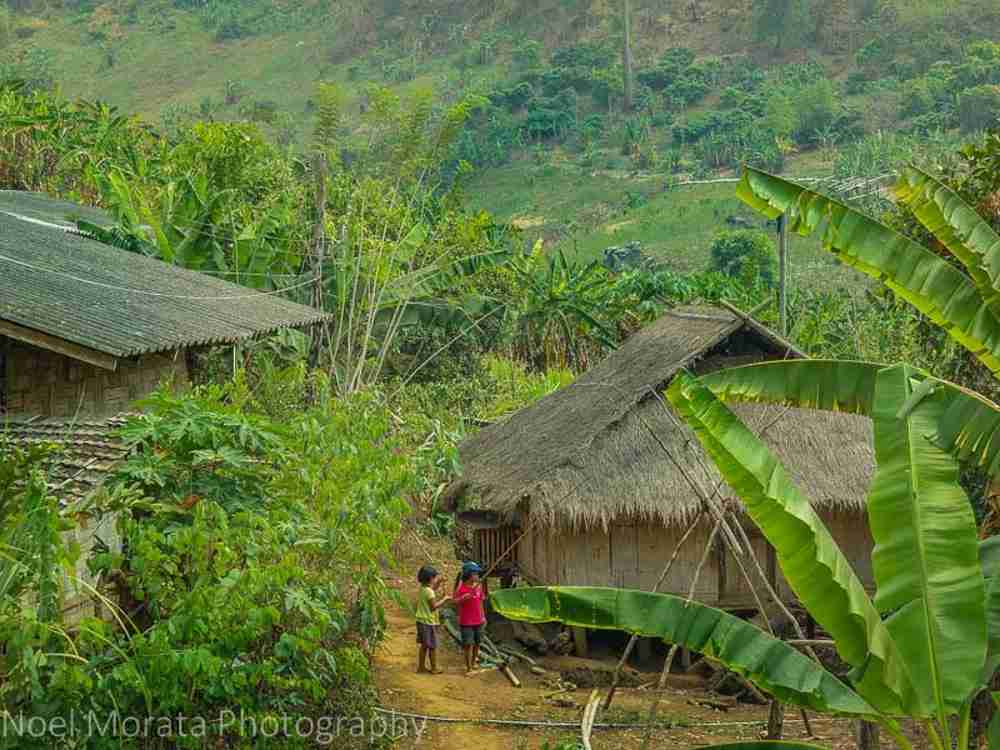 Just north of Chiang Mai about an hour drive to the foothills region, the various Northern Thailand hill tribes live and farm in the area. The tribal people originally coming from China, Myanmar and Laos include the Hmong, Lahu, Karen, Lisu, Akha and Mrabi eke out a living farming creating local crafts and tourism venues in over 14 provinces the isolate hill areas of the northern region. Migrating to this region for over 150 years, there are estimated over 600,000 hill tribe people living in the various regions. You can check out my visit to the Lisu tribe for more images, details and inspiration.
11. Airplane Graveyard Bangkok
Tim of Universal Traveller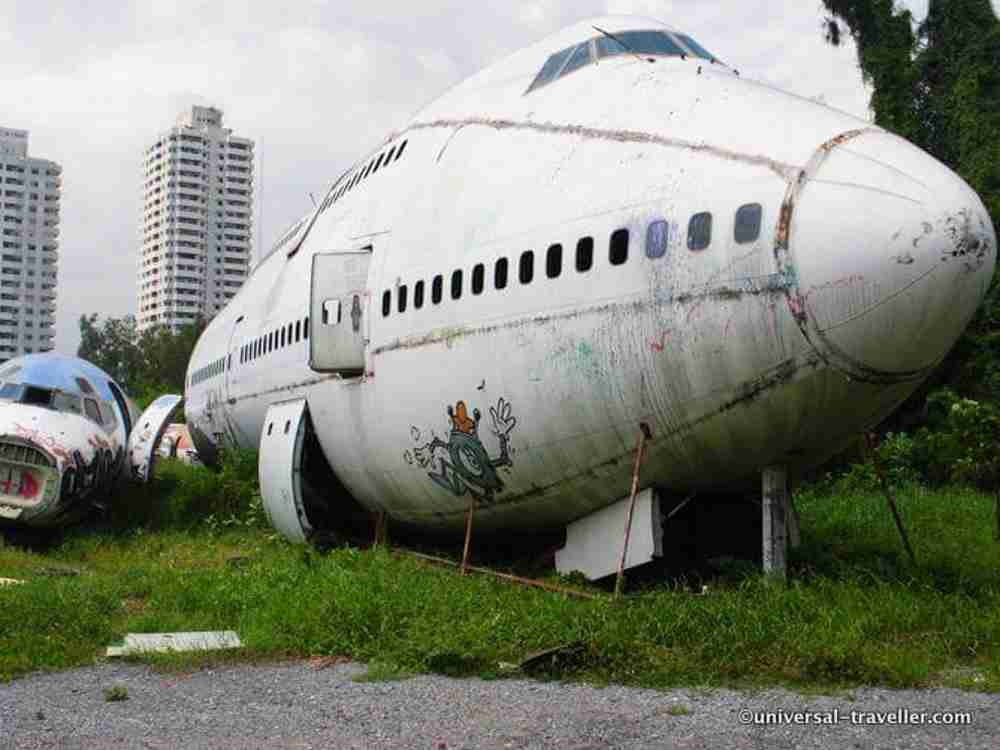 Are you interested in airplanes and off the beaten track activities? Then you should not miss the airplane graveyard in Bangkok during your trip to Thailand. It is located in a residential area next to condos, a primary school and a temple. Not really a place where you would expect to find an airplane. The graveyard is home to a huge Jumbo Jet, once known as the Queen of the Skies and two McDonnell Douglas MD-82.
In contrast to other airplane graveyards it is possible to climb into the old planes and to take photos in the cockpit, cabins and cargo compartments. There are several Thai families living on the site using parts of the planes as shelter and earning money by charging tourists a small entrance fee of 150 Thai Baht, which is less than 6 USD.
You can find more information and directions about the Airplane Graveyard Bangkok.
12. The Ruins of Ayutthaya
Kevin of The Outcast Journey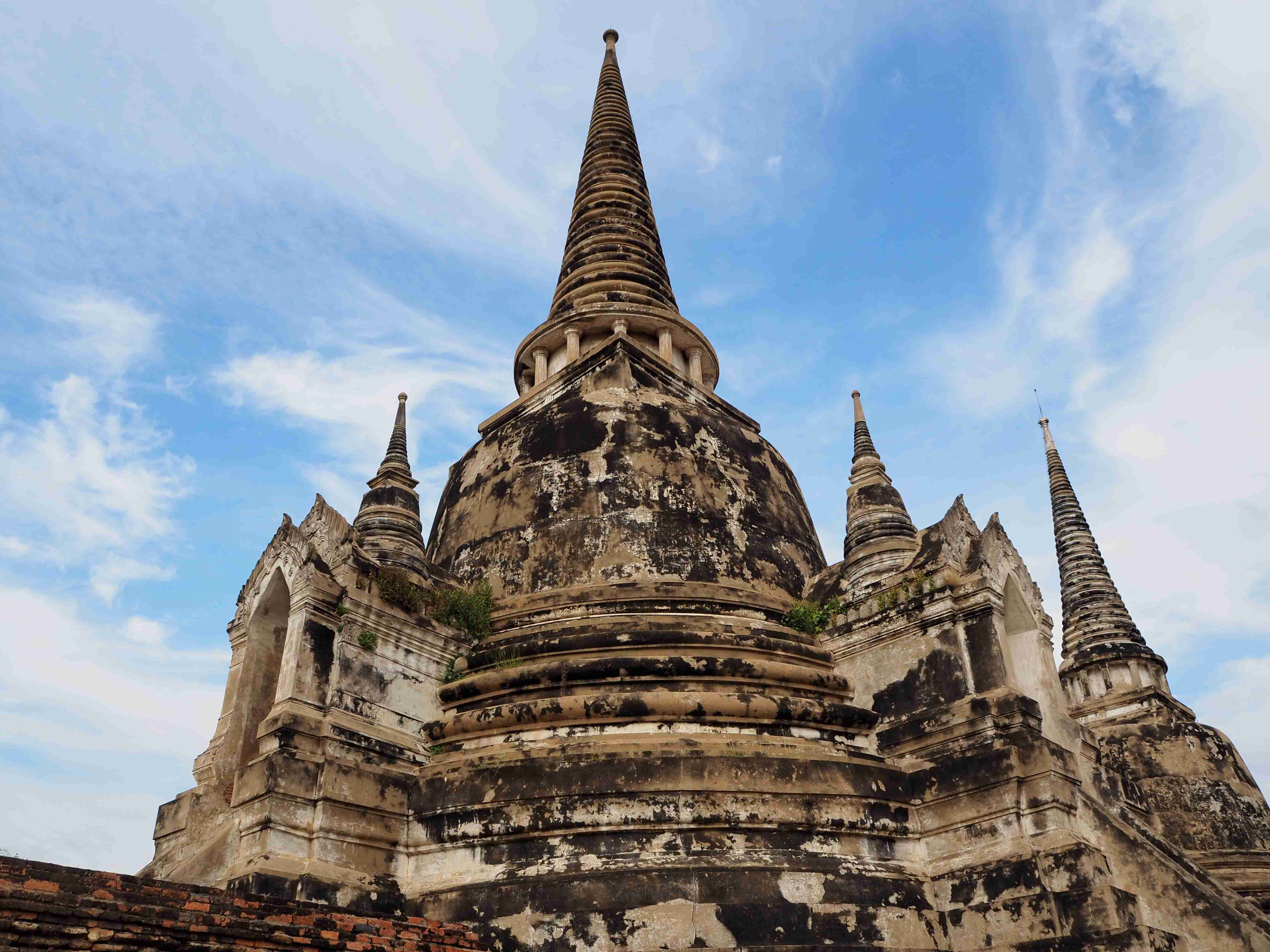 Ayutthaya is a UNESCO World Heritage site and you can spend the entire day if you love ruins and being outdoors. There are several ways to go to Ayutthaya if you're coming from Bangkok; by bus, by train, by taxi, and by minivan. Hop on to Victory Monument, a BTS line station, and ride a van going directly to Ayutthaya. There are several temples built in the area with some of the most beautiful views. Wat Phra Si Sanphet, Wat Chaiwatthanaram, and Wat Mahathat are my favorite ones. Aside from these, you may also consider other things like visiting the Ayodha Floating Market, Ayutthaya Boat Museum, and Krirk Yoonpan's Million Toys Museum that are all worth to be included in the things not to miss in Thailand.
Thailand is just one of the most visited country for backpackers. Now if you're planning to visit neighboring countries, for sure there a lot of travel guide to Southeast Asia out there!
Liked the article? Pin it for later.