This post was most recently updated on January 4th, 2018
It was the start of the year when mountains started calling me. Since hiking is a part of my bucket list, I didn't hesitate any second to try. Good thing a friend of mine invited me for a day hike to Mount Marami.

So escape the comfort zone and take the first step on a mountain…but always be careful!
Mt. Marami, located in Maragondon, Cavite, at 405 MASL, is comparable to Mt. Pico de Loro because of the same features as the latter. This said mountain has numerous composite rock pillars, the reason why it's now called 'Marami', meaning many/plenty. Hence, it was previously called 'Nagbuo' by the locals.
How to Get To Mount Marami
Getting there is easy; we left Manila at 5 in the morning. Two and a half hours later, we finally made it to Brgy. Ramirez and went straight to barangay hall for registration. Just drive south to Tanza then Naic. A cheap car rental should do the job. Alternatively, you can take a bus from Manila to Naic, and then ride a jeepney from Naic going to Magallanes, Cavite, and lastly ride a tricycle that will take you to the jump off point.
Since it was my first time, I didn't have any gear or outdoor apparels yet. The usual school backpack, a pair of rubber shoes (in which the pair's sole broke after the hike), and typical gym/workout outfit. Aside from the gear, I also packed some lunch and snacks. Nothing too special, just something to keep us from passing out anytime. For first time climbers like me, jelly ace, peanuts and chocolates are the recommended food items to bring for hydration and stimulation. Never forget to bring your own water also 1.5 Liter, at least, as you will be exposed to direct sun.
This was actually the first time I couldn't contain my excitement because I knew that this was going to be an epic adventure. Our group was composed of mixed first-timers and frequent hikers. We started climbing around 8 am. The weather was cooperative that day, although it was too dry; but it was more manageable than climbing in muddy land. Upon climbing, we bumped into people who were on their way back to the drop off point. Noticeably, one of the habits of regular mountaineers is to greet everyone. "Hello," "Good morning," and "Take care!" just to name a few. The start of the hike was fine. There were just up-and-down roads, which was a good start to get us going. About 2 hours of straight walking, you would cross rivers, this could get knee-deep during heavy rains. Just always be ready as weather in the Philippines is very unpredictable.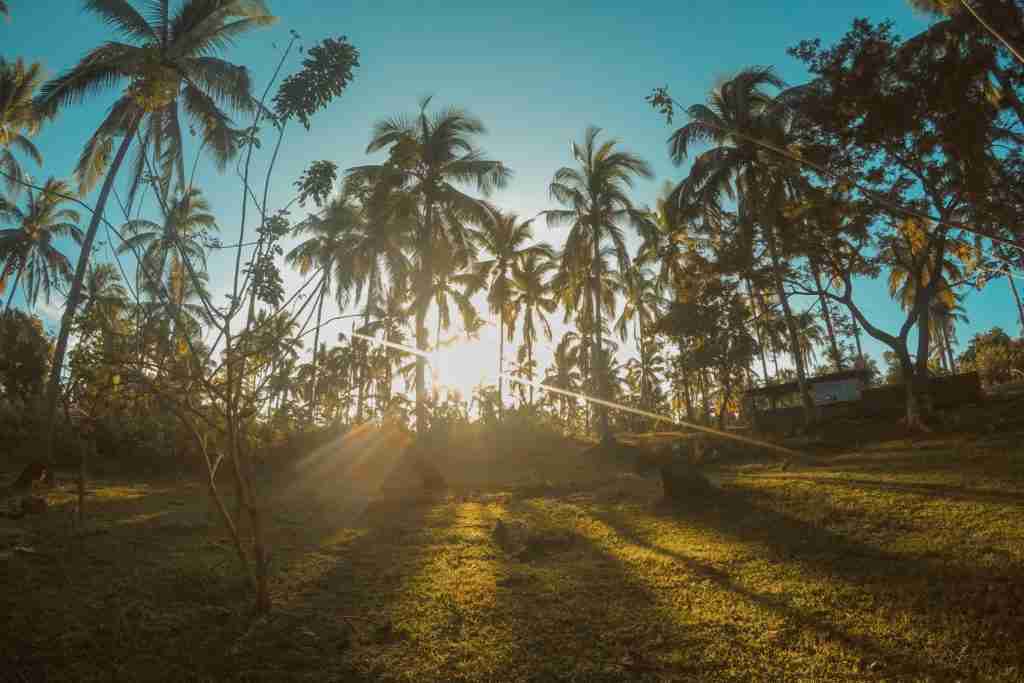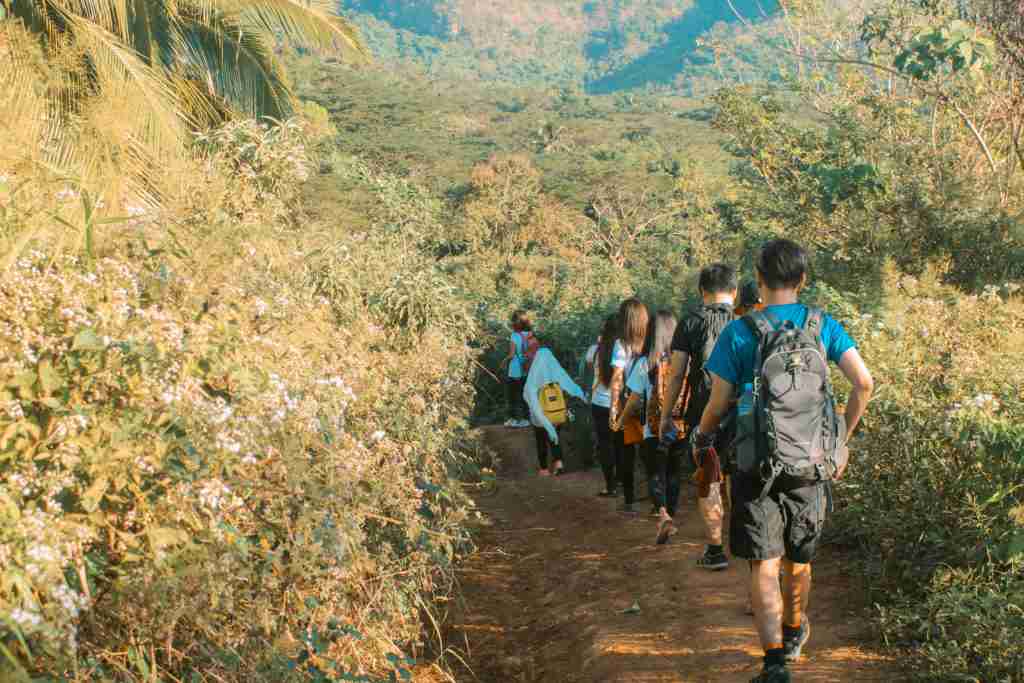 The beginning section of your hike is primarily in the trees, with occasional mountain views peeking through.
We passed by a small church called Nuestra Senora dela Paz. I wasn't able to confirm if the locals still visit the church as it's covered with long bushes. Then, we encountered a few horses on our way up. I was thinking if I could just ride on the horse all the way up― but of course I went there for experience! Never did I mention that I was having a bad cold that day, so aside from holding a GoPro, I was also holding a towel and lots of tissues with my other hand.
We stopped where a lot of cows were. This was where the most of assault started. Moments later, we finally reached the Bamboo forest, this time you wouldn't be directly exposed to sunlight because of the trees, but the path would get steeper. You could feel exhaustion but you would still keep on going to make your first summit experience fun.
The question we repeatedly asked our tour guide was, "Are we near the summit?" And his never-ending response would be, "Almost there!" few minutes to an hour passed but we still haven't reached the top yet. I guess he was just fooling us. Hehe! We then decided to stop complaining and continue to walk/trek/climb.  We thought if they could do it, so could we. In the campsite, we saw the tip of mountain, this gave us the hope to finish the hike right away. Tiredness was starting to change into excitement.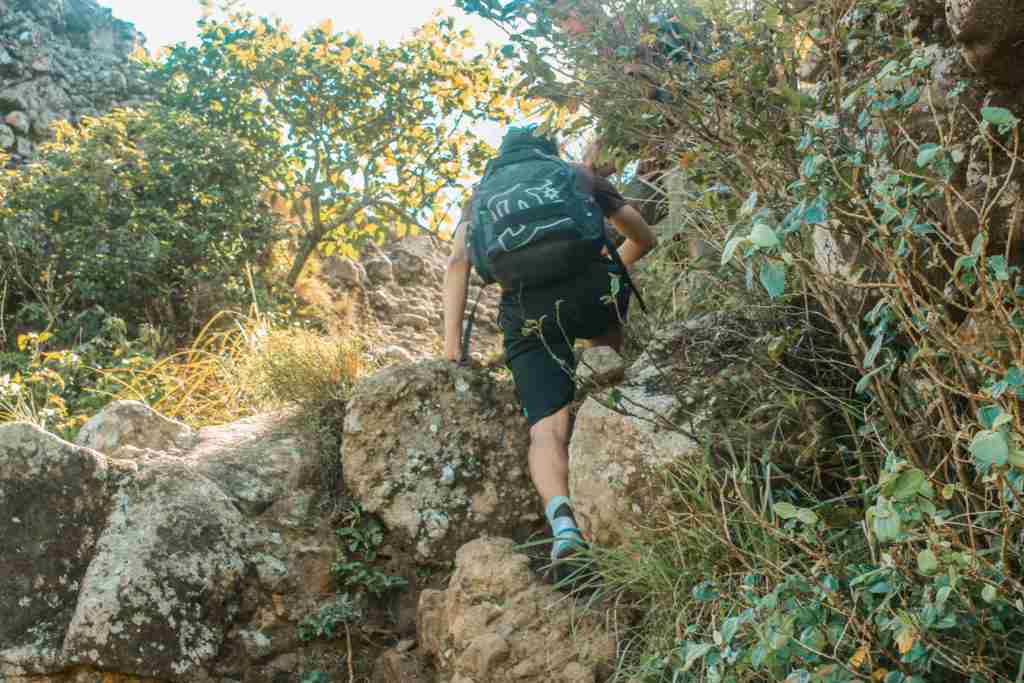 At last! We finally made it to the top! Most of the areas here are composed of rocks so you have to grip when changing place to another. Silyang bato, "rock chair", offers a superb view of the Maragondon, Cavite and the nearby towns. It was here that we stopped to soak in the view of the place.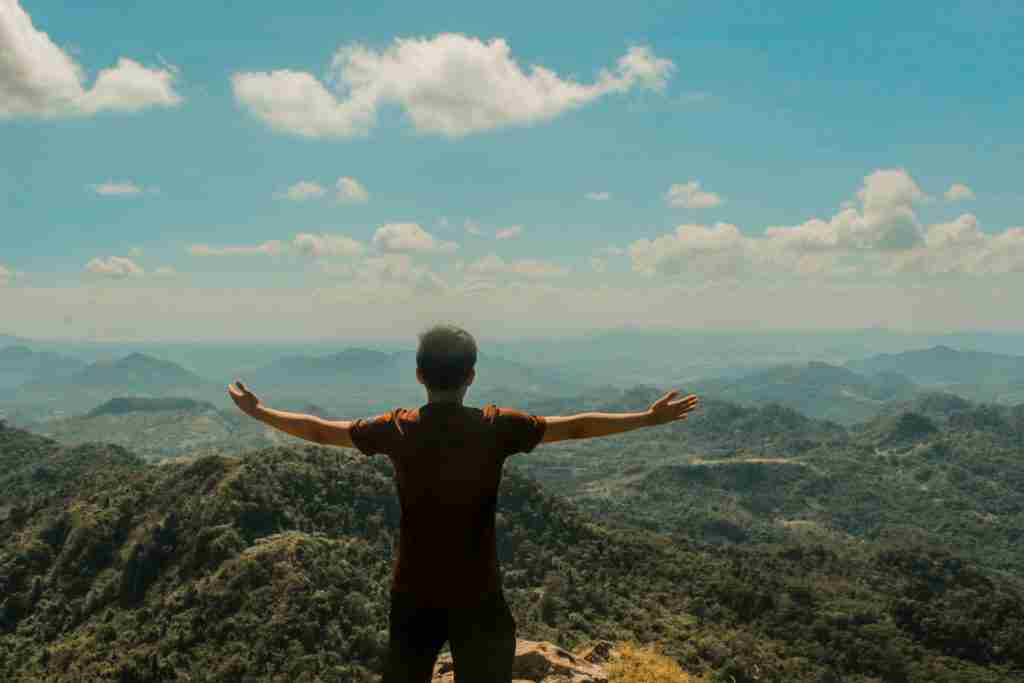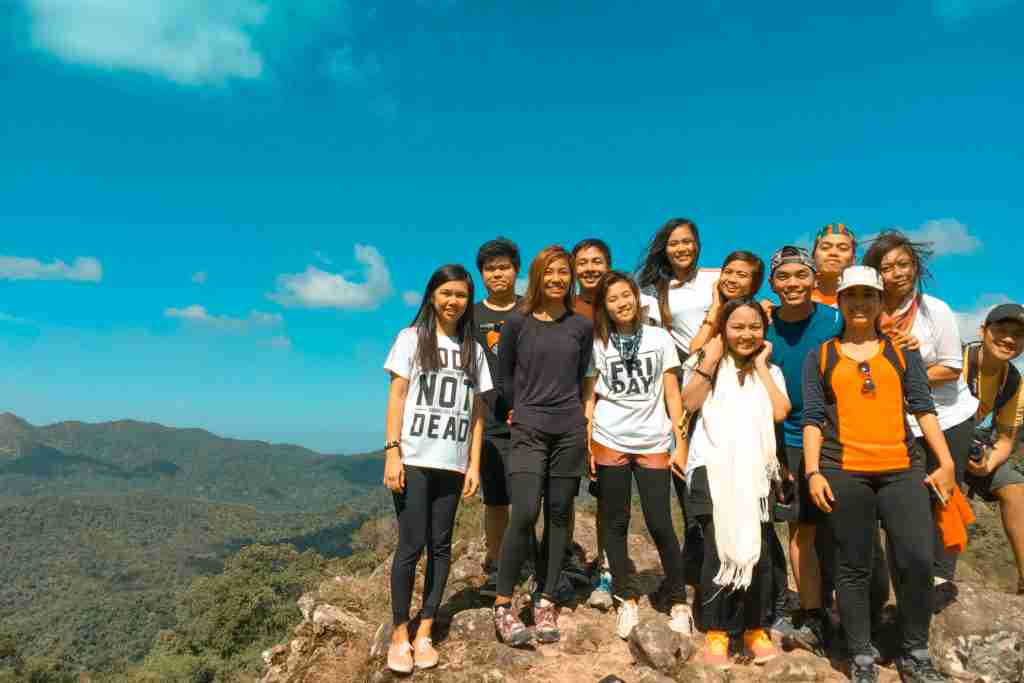 After capturing the shot that we wanted, I decided to just put down my camera and enjoy the view.
On our descent, we stopped by the shade of the bamboos to eat our lunch. It was really hard to find a place because cows' poo poos were everywhere. After we had our lunch, we continued in our journey so that we could reach the town before it gets dark. In our second stop, we stayed for a couple of minutes in an open area. We bought coconut juice and did a little chat with the others to get to know them. And we had another break just to refill in nearby water source.
When we finally made to the jump off, ice cream vendor was waiting for us. So we took a little rest before taking a shower. Locals there were very accommodating and they let us use their toilets for free.
Even though we were in pain during and after the hike, we absolutely did not regret the trip. The panoramic scenery was superb and worth the effort. This hiking trip in Mt. Marami was definitely worth crossing off the bucket list.
Mount Marami details:

Jump-off point: Brgy. Ramirez, Magallanes, Cavite
Alternate jumpoff: Brgy.Talipusngo, Maragondon, Cavite
LLA: 405 MASL
Days required / Hours to summit: 1-2 days / 4-6 hours
Specs: Minor climb, Difficulty 3/9, Trail class 1-3
Features: Rocky outcrops, scenic views of Cavite
Tips and Guides
Best to go there with experienced hiker or hire a guide as the trail is really confusing. There were already reports of missing hikers.
4-5 hours of trek on the way to the summit then you can make it down in just 3-4 hours depending on your pace.
See more The Outcast Journey hiking guide in Mt. Batolusong.