This post was most recently updated on October 17th, 2018
The newest attraction at the South border of Metro Manila will surely be loved by the sweet tooth Filipinos (Yup! Including yours truly). Due to the demand of social media, there's a higher expectation from the people when opening up a food business. One should be best of both worlds; appealing to both eyes and taste buds. As they say, you feed your stomach and your Instagram at the same time. Well, The Dessert Museum Manila is the place to be! Here's a look at the things that you can see and EAT in The Dessert Museum!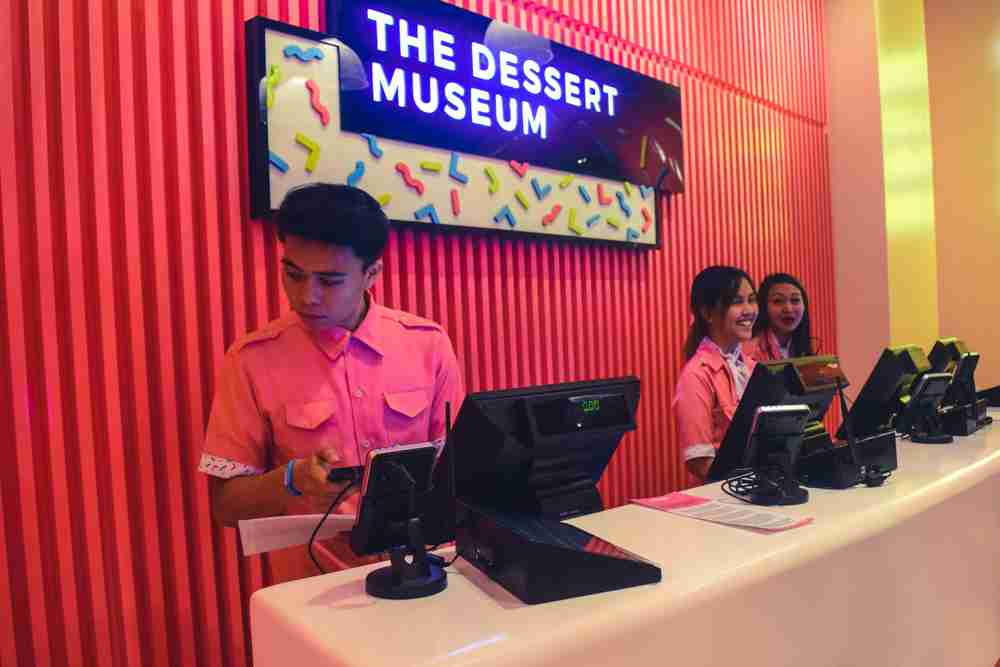 8 Sugar-Filled Themed Rooms
Dessert Museum covers 12,000 square feet which consists of different varieties of sweets. It has eight rooms and these rooms will offer you with sugar-filled dimensions.
Donut Room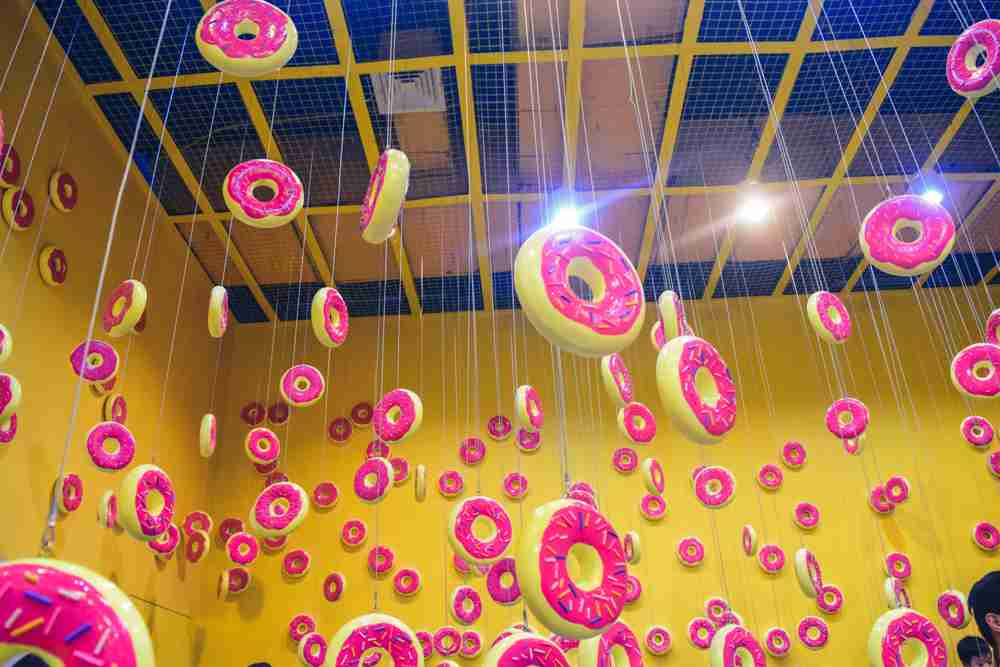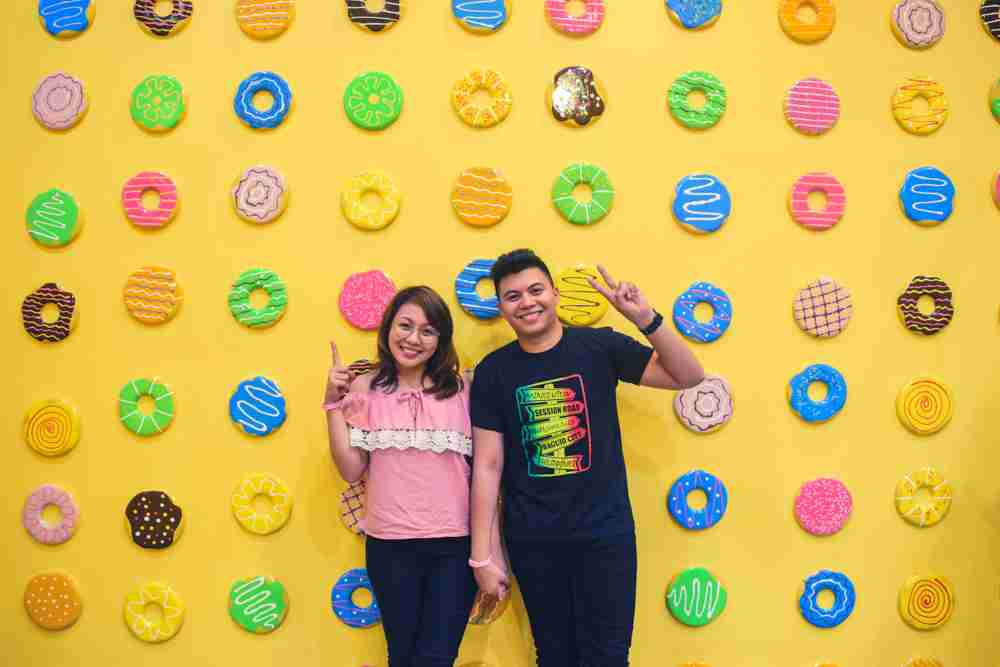 Not sure if this is considered as your appetizer but start with ring-shaped pieces of sweet fried dough – donuts. The stunning installation of hanging donuts you see above consists of strawberry frosted with sprinkles in a yellow painted room. But don't get too excited much because these are not edible. Nothing can do so much here yet but to take pictures so we get to the second room. 
Marshmallow Room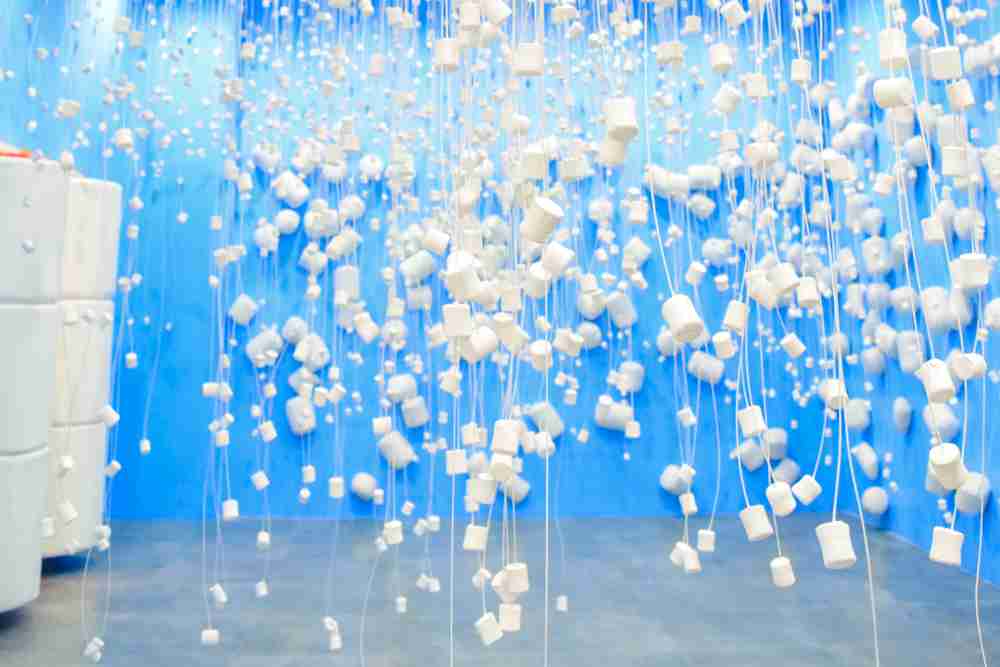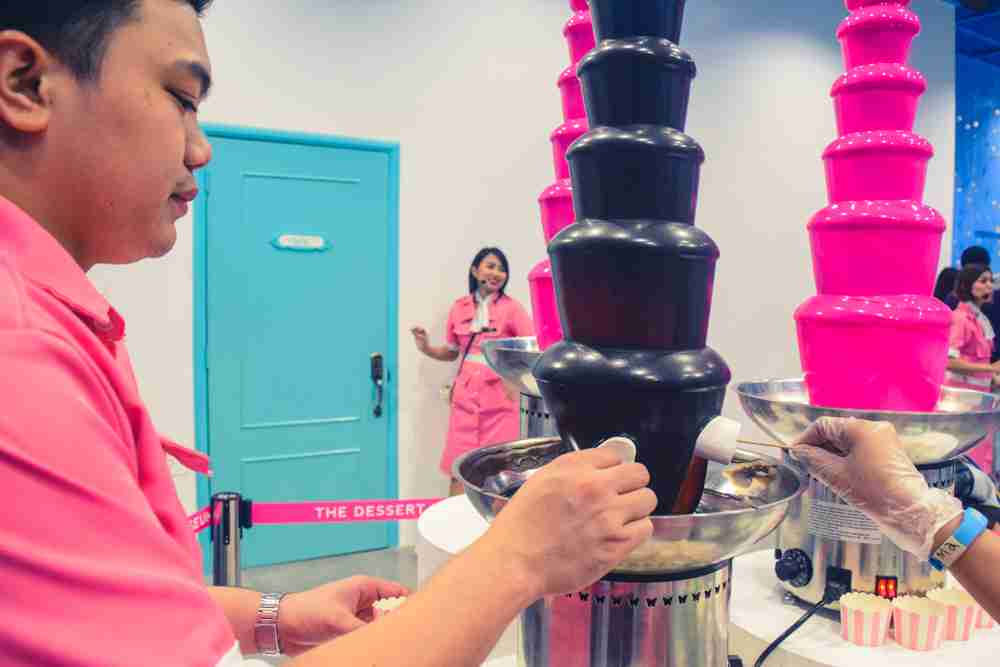 Upon entering, you will have an idea of what's coming next as you get sandwiched between six pieces of big marshmallows, with three on each side. You'll be amazed with a series of marshmallows hanging from the ceiling. There is also free marshmallow dipped in fondue of three different flavors, chocolate, caramel, and strawberry, which is just in the other end of the room. The room is in white and blue palette with a creative, attention grabbing installation of rainbow which has marshmallows on each end. 
Candy Cane Room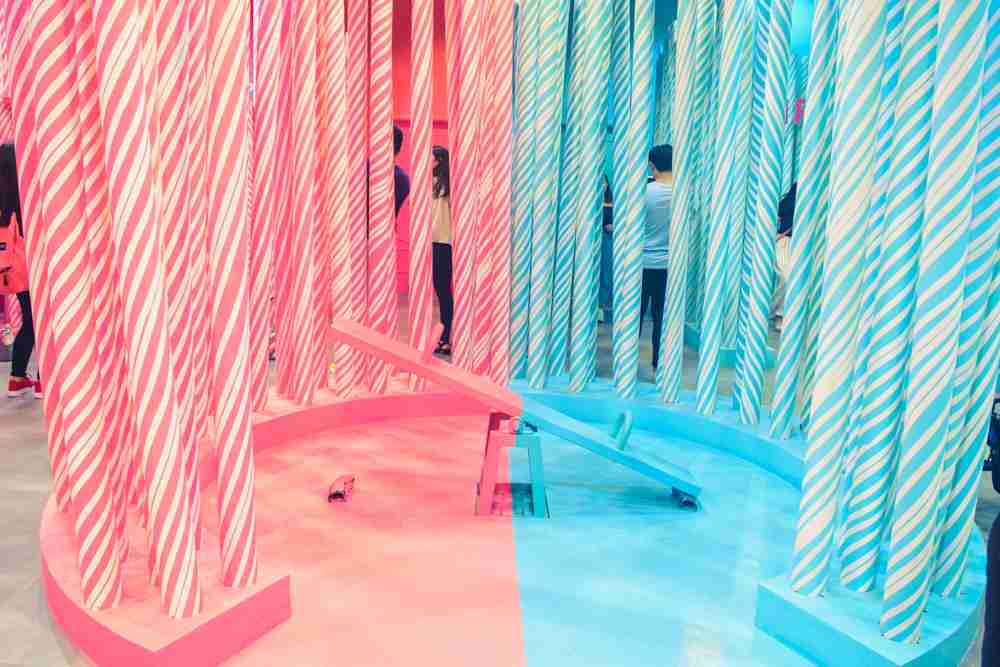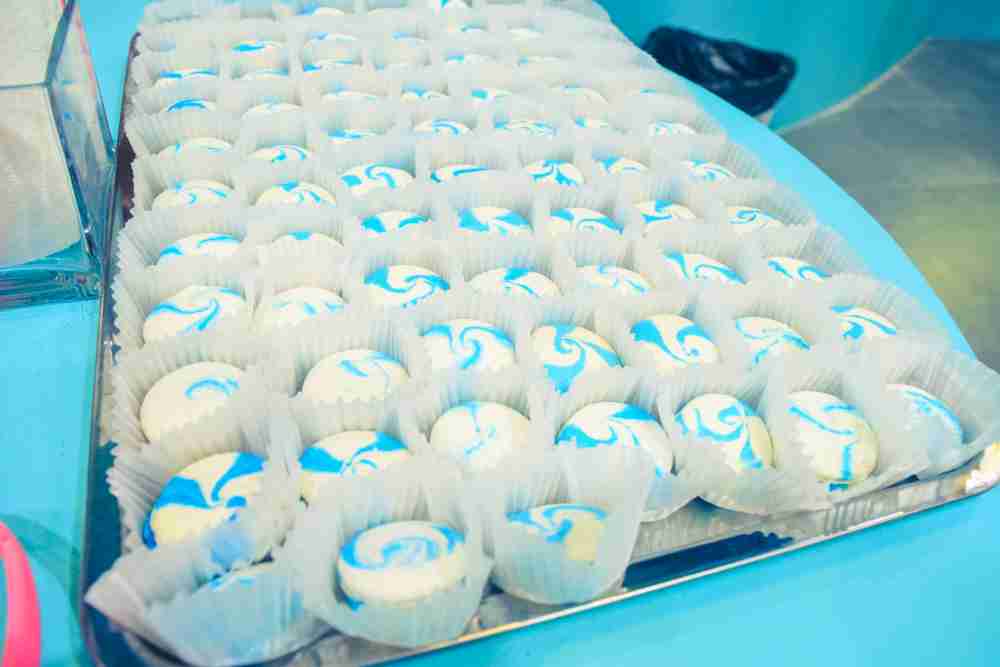 During our visit, we felt like kids again playing in the swing and see-saw. We were surrounded by white and pink stripe candy canes of about eight feet long as we made it to the room. While a mix of white-blue and white-pink colors of candy canes is found in the see-saw area. Oh! I almost forgot. We also had free macarons here.
Ice Cream Room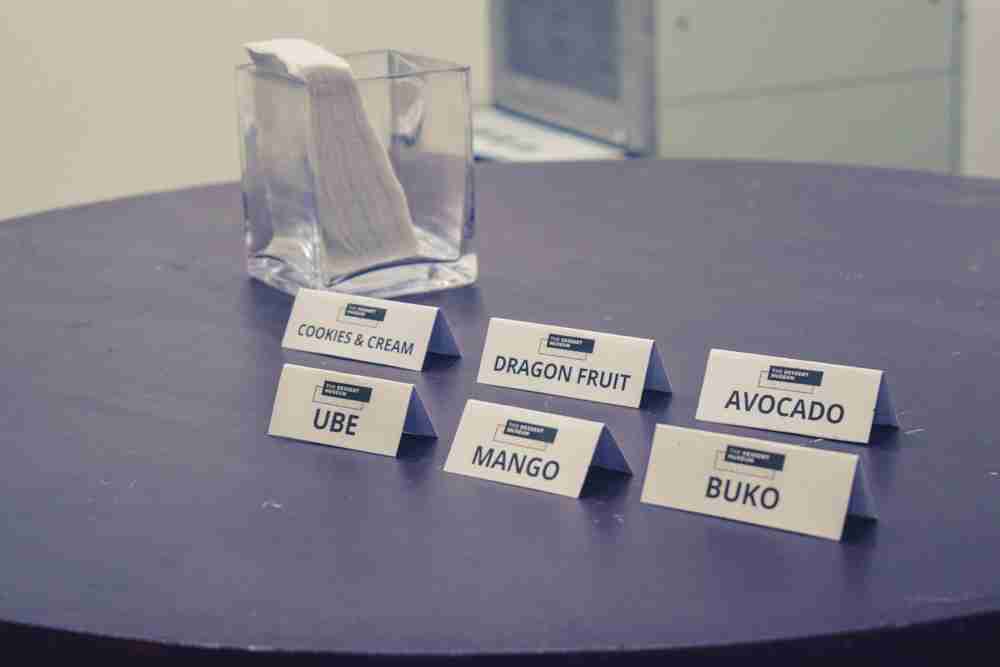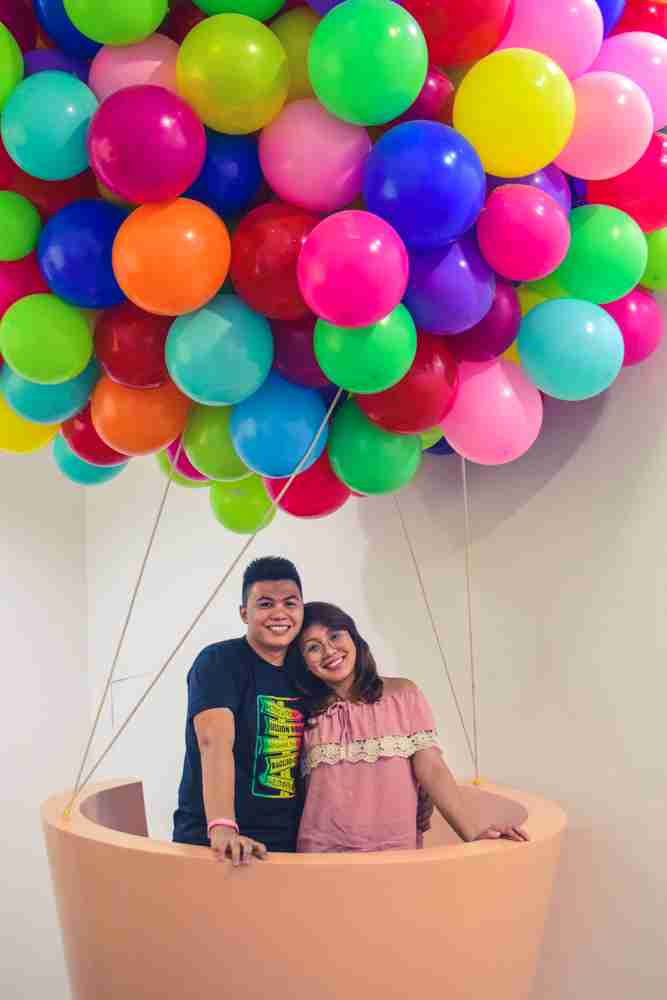 On to the fourth room, my cravings for cold dessert were finally satisfied as we were greeted with ice cream that comes in different flavors. I could finish that set of ice cream on my own because it was so crazy delicious. You should definitely try the avocado flavor! You can also take a picture with cluster of filled balloons inspired by one of the best animation films – Up – and feel like you are in an awesome flying adventure to South America just as with Carl and Russell. Only, it carries an ice cream cone rather than a house.
Balloon Room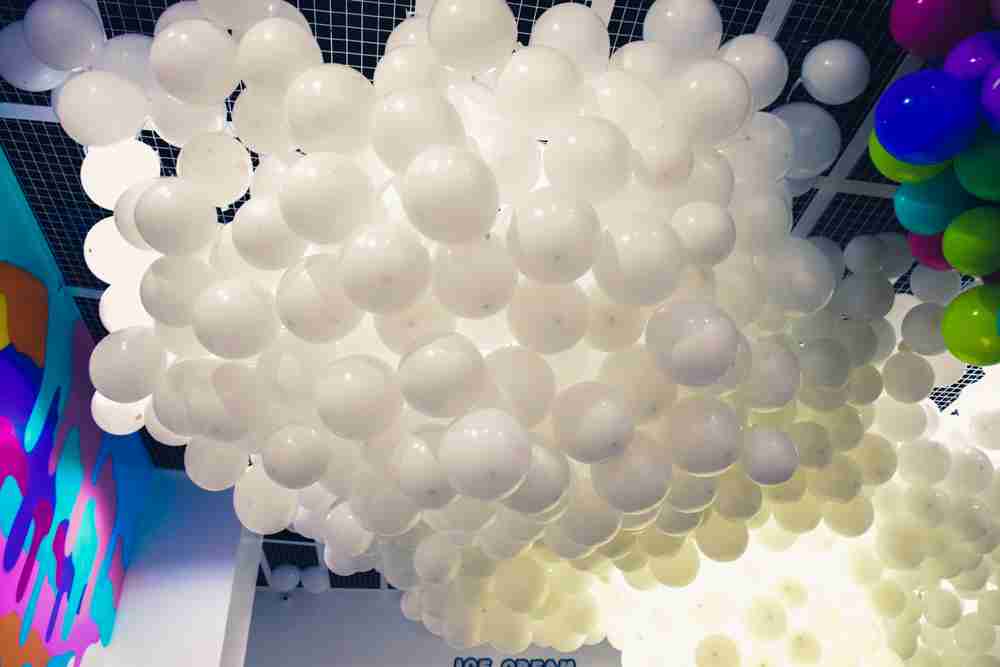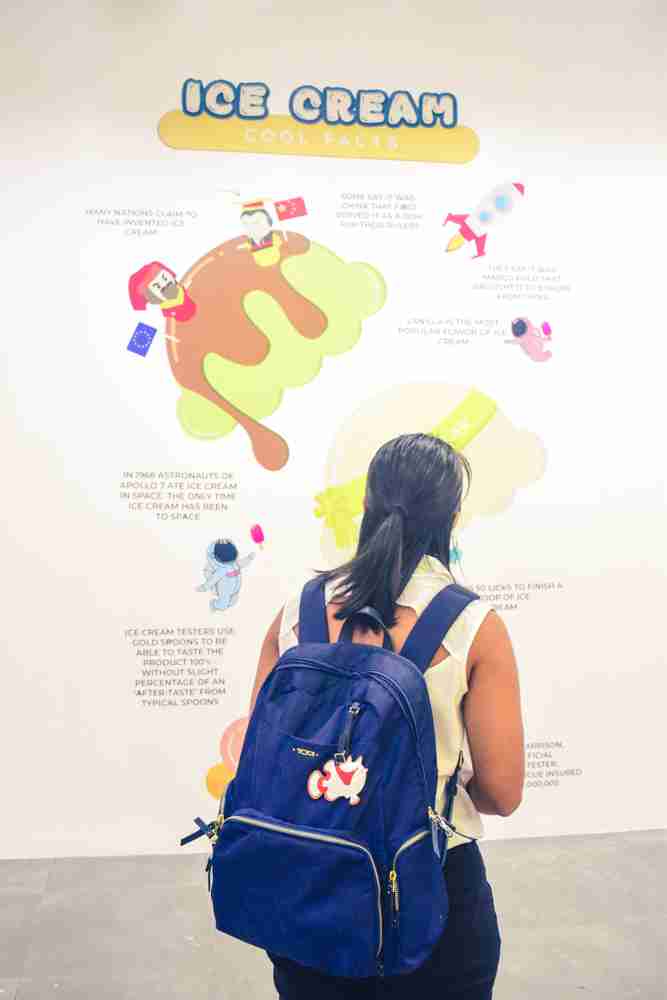 Almost the same concept as the previous room, but this time the room lets you experience flying white balloons that look like they're coming from a big ice cream cone. Also, it lets you experience the feeling inside a bubble.
Gummy Bear Room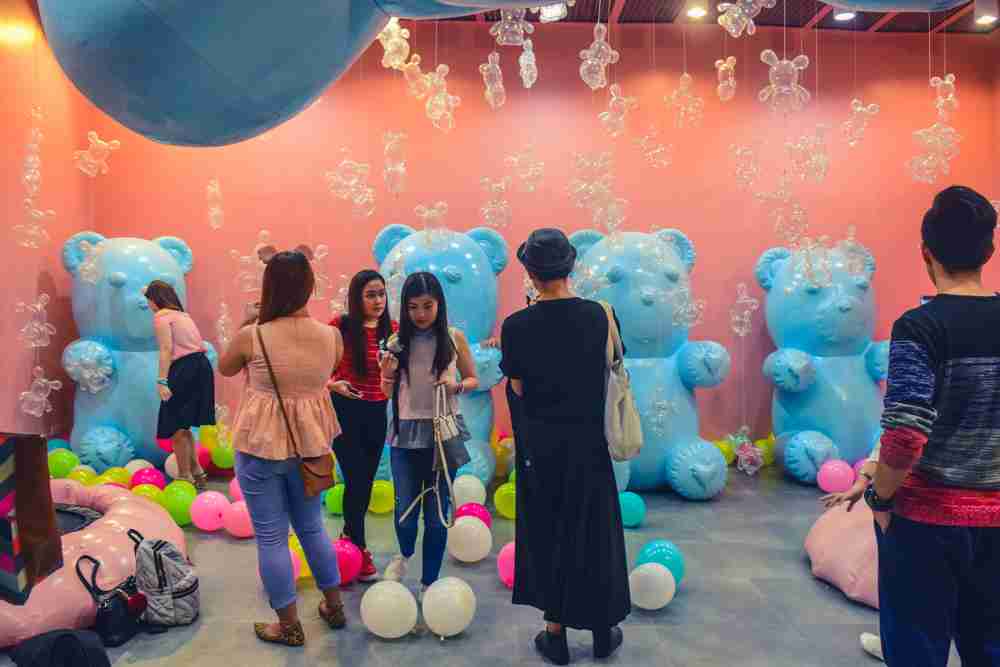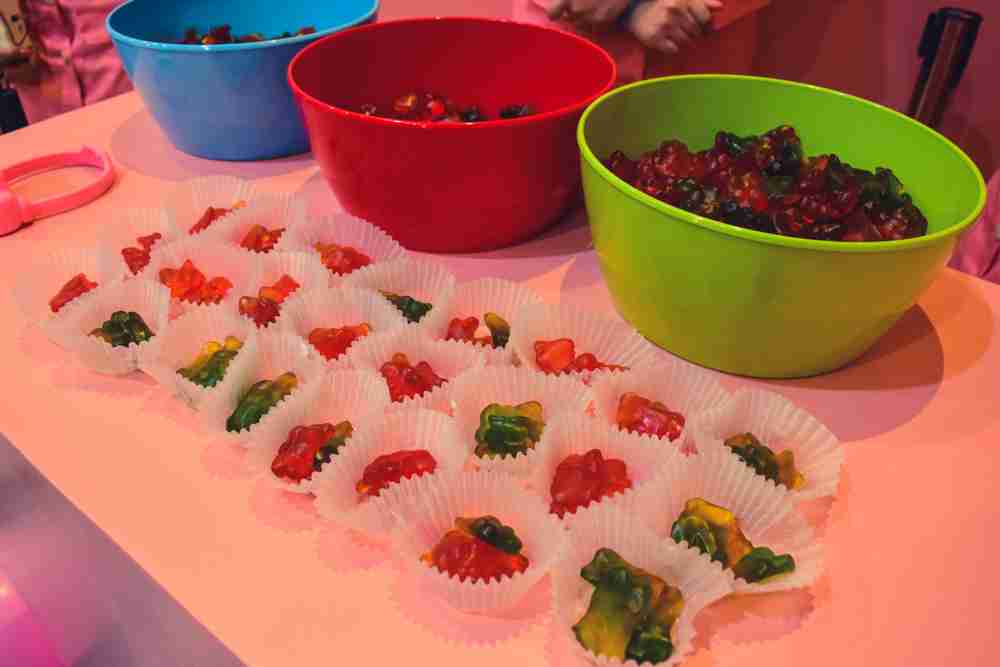 You cannot visit The Dessert Museum Manila without enjoying a lot of gummy bears. From the huggable life-sized ones to soft and chewy edible ones, surely you will enjoy being inside of the gummy bears room with colorful balloons and trampolines.
Cotton Candy Room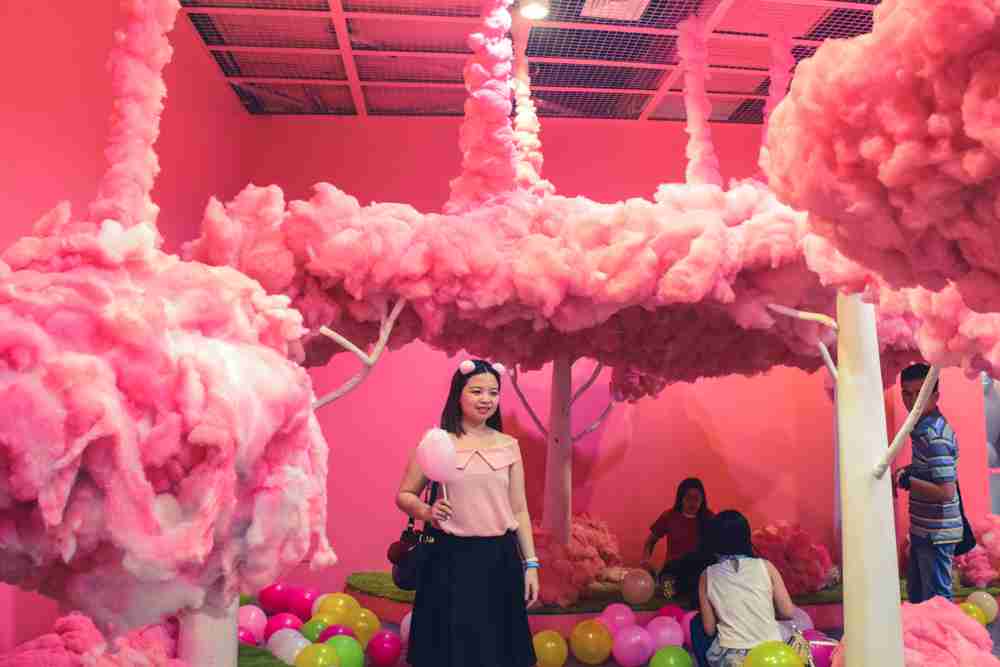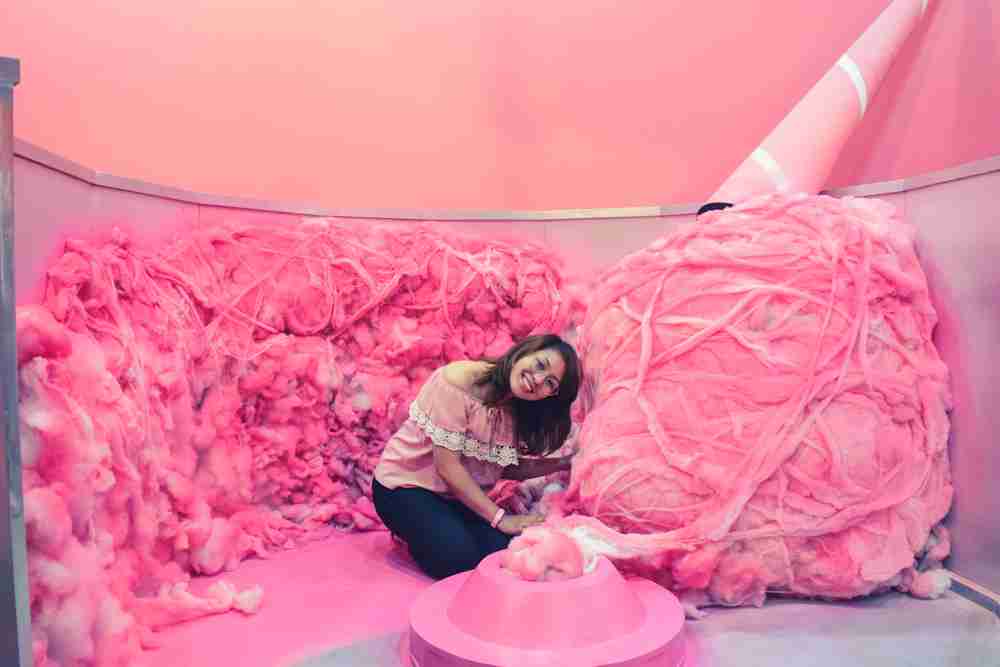 The cotton candy room. Everything here is color pink. The place is filled with cotton candies that'll make you want to eat. Don't worry you'll get your free cotton candy afterwards. But before that, you have to experience what it's like to be in a giant cotton candy maker.
Lollipop Room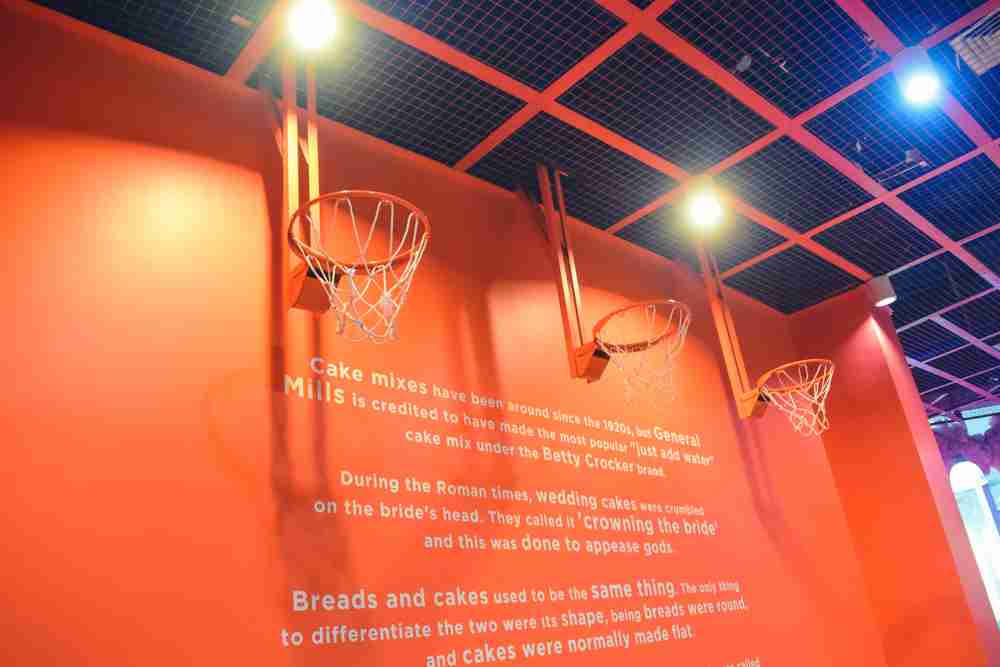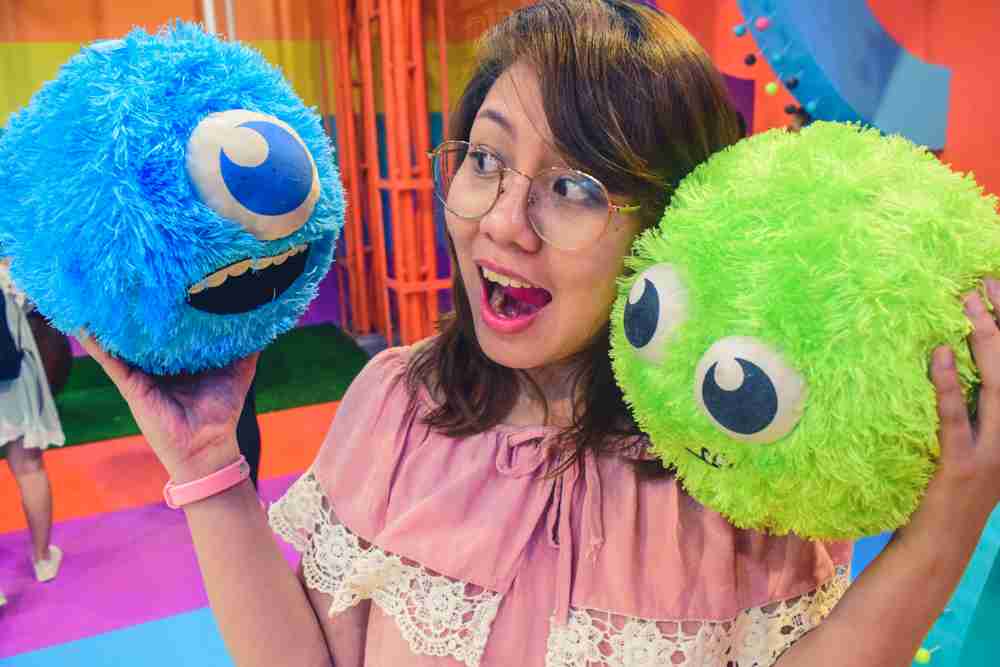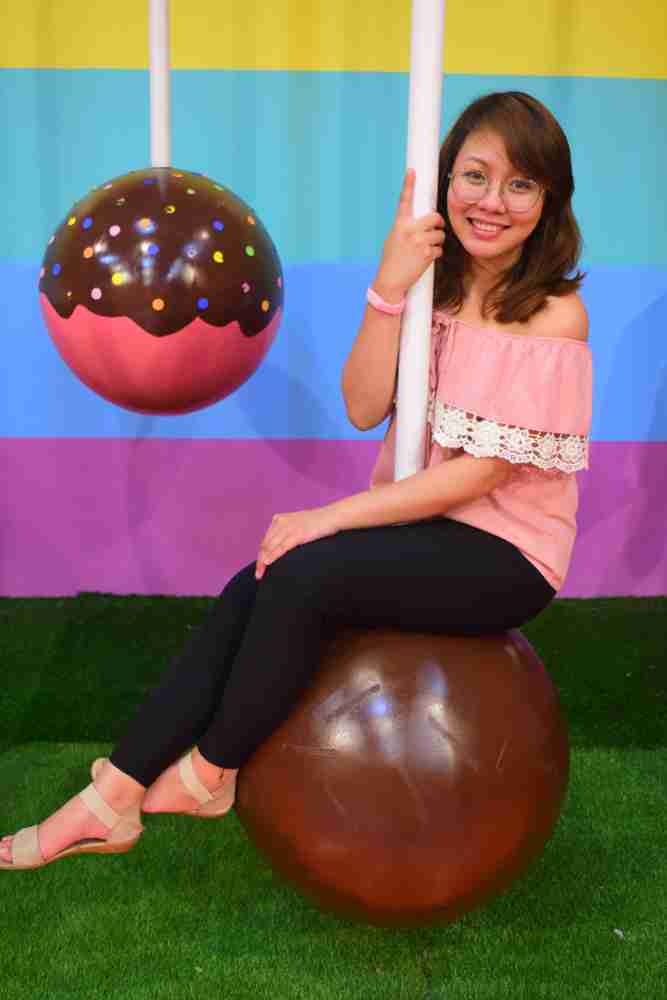 Finish your Dessert Museum Manila tour with a free chocolate. The upside-down lollipops pictured above reminds me of Miley Cyrus' music video of "Wrecking Ball". Hoping your teeth won't get wrecked after eating all these sweets. Haha. The last and final room has also a basketball court where you can play and shoot. I'm sure you'll enjoy a fun experience at the Dessert Museum.
How to Get to Dessert Museum Manila?
If you're coming from the North, take the MRT and drop off at Taft Avenue Station (last station) then take a jeepney going to Mall of Asia. Otherwise, if you're from the South, you can ride bus or van which directly routes to Mall of Asia. The S Maison mall is located near SMX and the church of Archdiocesan Shrine of Jesus, The Way, The Truth and The Life. Once you're in Conrad Hotel, you can easily find the museum. Visit other dessert places outside Manila.
Fees and Schedule
For only 699 pesos you can enjoy 2 hours of tour in 8 dessert-themed rooms. You can choose your preferred time and date. If you're walk-in you can pay 799 pesos. For sure slot, you can book here.
Location: Unit 124, 126, 127a, S Maison, Coral Way, Conrad Hotel Manila, Mall of Asia Complex, Barangay 76, Pasay, 1300 Metro Manila
Pin it for later.